Serena and Venus vs. the World; Why You Should Watch King Richard this Fall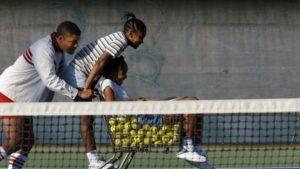 King Richard, is a fictionalized movie based on the upbringing of Serena and Venus Williams, two of the world's greatest athletes and representatives of the African-American community.
The movie, which comes out on November 19, not only depicts difficulties the sisters overcame growing up but also covers topics like black and female representation within professional athletics as well as female empowerment on and off the court.
The girls are revered for their world records in tennis, their consistent rivalry, and the influence they've had on the game. As women, they have not only become tennis superstars, but also female role models to young women and girls all over the world.
"They are definitely inspirational; seeing strong female figures be competitive, courageous, and have value beyond just being beautiful is something to look up to," Woodside tennis player Adin Helfand said. "Black women specifically tend to be perceived as 'exotic beauties' and are often sexualized. I believe King Richard may successfully break down this stereotype."
Like the Sha'Carri Richardson case, which shows how treatment of white and black people differ in the athletic community, King Richard raises questions about black athletes competing in oppressive environments in which the majority tends to be white.
"I do feel like the movie will give a lot of young black girls and athletes the confidence to succeed, which is good," Woodside student and African-American athlete Nia Nau said. "However, I believe the media has a "white savior complex" so I'm not hopeful in terms of the movie shedding serious light on a topic such as modern-day black oppression and social conflict."
Despite social issues, the audience may be left wondering what King Richard is really about. The title is a tribute to the sisters' father, Richard Williams. He was a tough, strict, and intense coach to the girls and instilled nothing but success within them. In the trailer for King Richard, Will Smith (playing Richard Williams) says, "I wrote me a whole 78-page plan for their whole career before they was even born."  
Williams dedicated his entire career to giving his daughters the ability to prevail against the oppressive environment that is Compton and make a life for themselves despite the obstacles that stood in their way. 
"I've always had this sort of really bad vision of the [Williams' sisters'] father, and to have that corrected and filled in would be really good," Woodside varsity girls tennis coach Lauren Denenberg said. 
Societal issues aside, the movie itself sheds an equal amount of light on the father as it does Serena and Venus, and their ability to climb from the dimly lit streets of Compton to compete at the illuminated courts of Wimbledon. 
"I think it's an amazing story. I mean, these two girls are incredible; they've done what no one else has done in any sport," Woodside Junior Varsity girls Tennis Coach Scott Stingel said.
King Richard hits theaters this upcoming fall, and with an abundance of reasons to watch the film, Stingel concludes, "Oh, and come on; it's Will Smith."