Back in the Stands at Woodside Football Games
Woodside High School's Varsity football team lost 47 to 18 in their first official game of the 2021 fall season against Silver Creek High School on Friday, August 27.
With this being the first official football game after the shortened and postponed COVID-19 season, students were excited to finally be able to support their school at the game and show some Wildcat pride. However, the game did not end in favor of Woodside High School, as they faced an unfortunate loss against the Silver Creek Raiders. With a couple of their key players out for the season due to injuries, the team struggled to maintain steam throughout the game. 
"We did alright in the first half, but with our lack of depth and our lack of talent, it was hard to keep up with Silver Creek," Varsity player Coleton Bowers said. 
Ben Giovannetti, a Varsity player, expressed that despite their shortage of players, the team rallied to the best of their abilities.
"We were breaking in a lot of new starters because of injuries, so I think considering how healthy our team was, we played as best as we could," Giovannetti said. 
Since so many players are injured and unable to play in certain matches, it is difficult for the team to work on improvements. Each game will have new situations and new players in, so the team must work with what they have each week.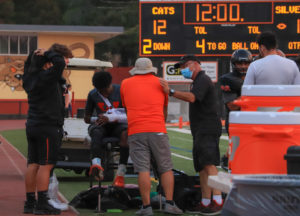 "Coach said every game is a new test match, meaning we cannot work on anything to improve future games if the team is not healthy," said Giovannetti. "It is more about going week by week and seeing who we have and seeing how we can adapt."
The atmosphere of the first official game since the COVID-19 season was different because spectators were not limited, and the game was open to anyone who wished to watch. Junior Varsity player Adrian Soltero revealed how the relaxed limitations on spectators affected the game for the players. 
"Being able to play in front of an audience changes a lot," Soltero expressed. "It just makes the games so much more fun than they already are… It feels great to see the student section again and playing under the lights feels amazing."
Attendees of the game were also excited to be back in the stands. Woodside sophomore Arianna Baca said that football games are not just for watching the Woodside football teams combat other teams, but they are also a vital part of the Woodside community's social scene. 
"My favorite aspect of the football games… is definitely the social scene," Baca revealed. "The football games are a coming together of our community which is amazing to experience, especially after not having that aspect last year with COVID."
Similar to Baca's favorite aspect of Woodside football games, Lorenzo Pepe, the junior class President, enjoyed seeing his peers show school spirit at the games. 
"My favorite part of football games is seeing people wearing orange," Pepe said.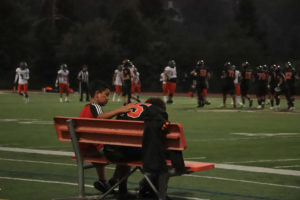 Baca noticed one way the overall football game experience could be improved for both the players and the spectators. 
"So far, I feel like the environment [and] spirited atmosphere is missing a 'spirit leader' to really get people energized during spirit rallies and games," Baca said. "Especially since lots of students do not exactly know how to be part of the Woodside spirit experience, it would be good to have a couple of students who really get people up and moving in the stands."
To continue fostering Woodside's sense of community at football games, and even in general, Soltero suggested that the one game students and other spectators attend is the one dubbed as the "Redwood City Rumble!"
"I feel every student should attend the Sequoia game," said Soltero. "It's the best one every year and the most fun because of the rivalry between Woodside and Sequoia."
Players on the Varsity team are hopeful that both the team's health and overall performance in games will improve.
"I hope the team gets healthy for the … last five games," said Giovannetti. "After our bye-week, I think we should be locked and loaded, hopefully playing the best we can."