How Rule 600 Impacts Woodside Athletics
Rule 600, the California Interscholastic Federation's bylaw regarding student-athletes' ability to participate in multiple sports in one season, now permits students to participate in both high school and outside sports, unless they play football.
In order to ensure priority and commitment, the California Interscholastic Federation (CIF) instated Rule 600 to prevent student-athletes from participating in more than one sport during the same season at once. This year, athletes can participate in both high school and outside sports. The one exception is football, and athletes who choose to participate in high school football must commit for a season and cannot affiliate with any teams outside of the school due to safety regulations for the full-contact sport.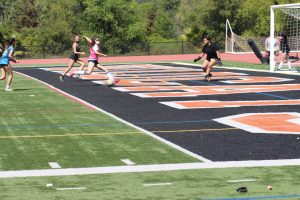 Though safety regulations only prohibit football from playing for multiple teams, health is still the most significant concern regarding coaches and athletes, according to Jose Navarrete, coach of the varsity girls soccer team.
"Here at Woodside, we don't cut corners, and we are going to continue to expect hard work and effort, regardless of if we are having a season or not," Navarrete said.
With Rule 600's previous requirements, the CIF aimed to prevent student-athletes from overworking themselves or becoming stressed. However, the students it impacted didn't all agree with its means of doing so.
"Ultimately, it is the athlete's body that is under that physical pressure… so I believe that someone else shouldn't get to choose whether or not a student gets to compete on both teams," Elise Evans, junior and soccer player, said. "I also think that playing for your school team can give an athlete a sense of pride in their school and make them feel involved, and the 600 Rule can take that opportunity away from some students."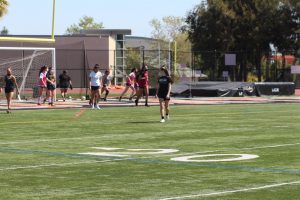 Like other athletes, Evans was restricted from playing in Woodside's uniform last year and was given a choice: to commit to either her outside team or Woodside's. This year, Evans explained how, unlike last year, she now has the opportunity to "play the sport I love in a Woodside uniform, which I thought I was never going to have the opportunity to do during my high school career." 
While many athletes are elated about playing on their outside teams and wearing a Woodside jersey, this is not the case for those who play football. Sophomore Dimitris King, a football player at Woodside, brought up a concern some seem to forget.
 "In my opinion, nobody should be able to go play club sports if they are participating in high school sports at the same time, because COVID-19 can spread just as easily," King said. "If people participating in Woodside sports are going out and playing with their club teams, then how are we supposed to know if they're being safe or not?"
Although COVID-19 is taken seriously, athletes expressed how it can be forgotten about in the midst of finding out about last-minute changes. With the usage of masks, proper social distancing, and more vaccines being given out every day, Woodside starts to make its way toward normalcy again.
 "Our goal is to be prepared — not to win, but to compete and stay healthy," Navarrete concluded.