The Legacy of Super Bowl 55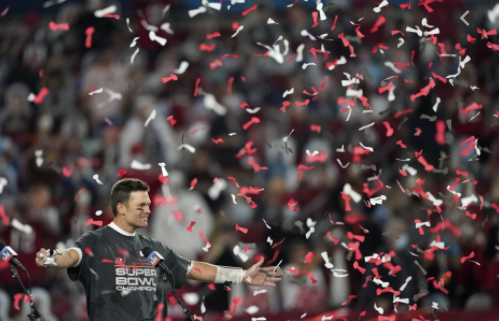 Super Bowl 55 was a highly anticipated football game, as it was the matchup between arguably the greatest quarterback of all time and one of the NFL's brightest young stars. However, it ended up being a great disappointment, as Brady's experience proved too much to handle for the Chiefs. 
Despite being seen as the underdog, the Tampa Bay Buccaneers beat the Kansas City Chiefs 31-9. The real question is, what does this mean for the quarterbacks of the two teams, Tom Brady and Patrick Mahomes' legacies? Does this solidify Brady's mark as the greatest football player of all time? 
Avid NFL fan Chris Philpott understands the severity of Brady's seventh super bowl ring, stating, "No question now. It was debatable before, but not anymore. Brady is the greatest of all time [G.O.A.T.]." 
Brady's NFL records include most playoff wins, most Super Bowl appearances, most touchdowns, and most valuable player awards. He has racked up quite the resume and is not done yet, so he could continue to break records. 
Football fanatic Blake Baldi agrees, stating bluntly, "He is definitely the G.O.A.T." 
What about Mahomes' legacy? After Mahomes won a Super Bowl in just his second year, many already had him marked down as a legend in the making. Woodside sophomore Charles Connolly doesn't think this will last.
"He can't catch Brady as far as Super Bowl wins, especially because Brady still has some years left in him," said Connolly.
Is Mahomes, once seen as a rising superstar bound to surpass Brady, now out of the discussion? Can a year make that big of a difference? It's fascinating to think that because Brady beat Mahomes and won his seventh ring, Mahomes might already be pushed aside this early in his career. 
Philpott agrees, saying, "I don't think [Mahomes] can ever get to where Brady is now."