The NBA bubble experience
How players and fans feel about the bubble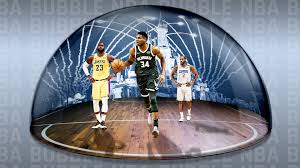 Due to the ongoing COVID-19 pandemic, the NBA season has undergone massive changes from the beginning of June through July.
The NBA suspended the 2019-2020 season due to the coronavirus's threat back in late March, and by June, the players and coaches of twenty-two teams got the season going. They decided to create a "bubble" at Disney World in Orlando, Florida. The bubble rules were straightforward: if you lose your series or don't make the playoffs, you go home. Now, it's down to just two teams.
When they started, everyone in the bubble had to self-quarantine for two weeks to make sure no one brought the virus in with them. 
"The players are affected since they can't see their family and have to be with only the team," Victoria Hamann, a local fan, stated. 
Everyone in the bubble was also tested daily to ensure everyone could train and stay in the right condition.
After the testing and quarantine time concluded, the games resumed, with each team getting pseudo preseason games to get the players back into shape.
"The games started slow," Woodside freshman Drew Tinson said.  "They seemed sluggish. It seems some had not trained and instead used this time to relax and not train to get better, which resulted in a huge advantage for those that did [train]."
After the first couple of games, the pace seemed to pick up, and players got back into their groove. There weren't as many small mistakes, and they seemed to be more in line and ready to play. Yet, it still felt like something was missing. 
While the games were finally getting back to normal, viewers still felt like something was missing. Most commented that they missed the fans and the intensity they bring to the sport.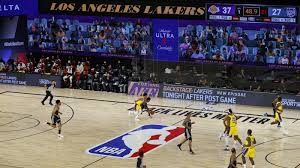 "It has affected the players since they don't have the crowd to hype them up as they used to, so comebacks were more difficult," Hamann commented.
Even the players can feel the dramatic change within the loss of fans.
They even added virtual fans since the absence was so prevalent. "It makes it feel more like the season. They couldn't feel the crowd at home, so they made adjustments, as they have done so many times this year." a local fan Greg Perry stated.
The bubble is working though, with no cases reported, which, for the time, makes this the new normal for the NBA. 
"We want sports, so if this is the only way we can do it, I'm okay with that." A local fan, Greg Perry, stated.