Why Bubba Wallace's Stand Is Important
EDITORIAL: How NASCAR's only Black driver is making a difference.
As an avid sports fan, it's been hard to ignore the waves of social justice protests and changes coming to sports. The statement that stands out to me as the most significant is NASCAR's.
NASCAR has often struggled with minority representation, mostly because many people of color don't feel safe attending NASCAR races.
"I grew up in Indiana, and I knew about NASCAR," former NFL safety Bernard Pollard explained on NASCAR's web series "Out of the Groove." "But I was always told, 'oh, that's not a sport for Black people.' But once I saw [Wallace], I was like, 'oh, they got a brother in this sport, I might have to check it,' and I loved it."
Bubba Wallace, the only full-time African American NASCAR driver, took to CNN to propose that NASCAR should ban the Confederate flag.
Surprisingly, NASCAR did just that; they banned carrying Confederate flags from all races. I couldn't have been more proud to see an organization I respected to take a stand against the hate and racism represented by that flag. This moment reinvigorated my love for NASCAR.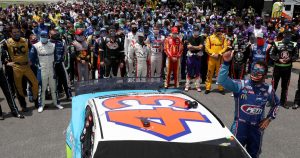 Before the following race in Talladega, Alabama, fans bore witness to one of the largest shows of unity I've ever seen from any sport.
Every single driver and crew member got behind Wallace's car and pushed it to the front of the pit lane. Where Wallace stood, Richard "The King" Petty and hundreds stood by him in a moment of unity. Petty's show of solidarity was especially important, as he was very against Colin Kaepernick and his protests.
I'll be honest here; I watched this live, and I broke down in tears. Wallace, one of the lone shining examples of representation in the sport, stood tall with tears in his eyes as everyone around him showed support — not only for him, but for justice.
After a fantastic finish, Wallace, who finished fourteenth, climbed out of his car for an emotional interview with fans in Black Lives Matter shirts behind him.
"This hits hard for me," Wallace tweeted out after the race. "I'll never forget the chants; I'll never forget this image!"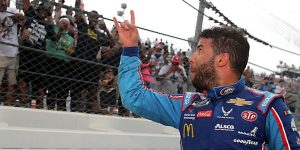 This event was important, as it showed NASCAR's newfound commitment to increasing diversity, not only in their sport but in their fan base. 
Before the race, a crewmate discovered what looked to be a noose in Wallace's garage. This incident ignited a whole fiasco that involved the FBI, and eventually it was discovered that the rope was a garage pull tied in the shape of a noose.
This incident ignited a firestorm of backlash, mostly at Wallace. This was not helped by President Trump fanning the flames, sending millions of "fans" after Wallace.
This might have been one of the worst days of takes online I've ever seen. Legions of people went on the internet to scream at Wallace, calling him "Bubba Smollett" and claiming that he faked a hate crime for attention.
I cannot fathom having such hate for someone that when the FBI comes out and says there wasn't a hate crime, you feel the need to demean and insult that person. And these people disregard the fact that Wallace never saw the noose; a crewmate saw it and reported it. NASCAR then showed Wallace, who made a statement. 
Most people against Wallace claim he is a liar, a bad driver, and only got where he is because he is a minority.
This is a very ignorant claim to make — nothing is ever handed to you in any sport, especially NASCAR. Running a NASCAR team takes so much money; they aren't just putting people behind the wheel based on their skin color. 
While it is true Wallace did not win a race in the Xfinity series, the same is true of seven-time champion Jimmie Johnson. Success in lower series does not equate to talent or success in higher levels. Matt Crafton is another NASCAR truck series legend, and he doesn't have any Cup Series success.
The largest knock I've seen on Wallace is that he is not a good person and acts with too much emotion on and off the track. Numerous incidents on the track have prompted responses from Wallace off the track. 
The most recent incident occurred at the All-Star Race Open, where fellow driver Michael McDowell got loose and wrecked Wallace. This prompted Wallace to rip the front bumper off of his car at leaving it at the door of McDowell's trailer.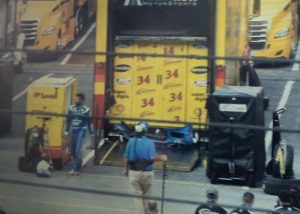 I'm sorry, but this is hilarious. Wallace got wrecked, took the front bumper off, and left it at the trailer of the guy who wrecked him. I love this; this is what NASCAR is all about. 
NASCAR is all about drama and grown adults acting like teenagers when they crash or fight. I mean, retired driver Tony Stewart once took his helmet off and threw it at the car of a guy who wrecked him.
As a fan, I love this type of stuff because it's drama and it's interesting. It brings in new fans, and it shows me that Wallace cares about winning and acts in passion. Since Stewart retired, Kyle Busch has been holding down NASCAR in terms of personality until now, and NASCAR needs that. 
But the fact of the matter is Wallace is what NASCAR needed: a household name.
Let's be straight, NASCAR hasn't been in a great spot since the early '90s. Dwindling attendance and television ratings have plagued the sport since then. But, for the first time in decades, NASCAR is rising in popularity. 
I think it would be ignorant to disregard Wallace's contributions to this. The Talladega race this year had double the ratings as the one last year, and it was in large part to new fans tuning in to see Wallace and the moment of unity.
I can't wait to see what Wallace can do behind the wheel of a Jordan-Hamlin car. This is top tier equipment, and if Wallace has the talent I think he does, we could have a new NASCAR on our hands. One filled with diversity in the stands and on the track.