How One Tweet Lost the NBA Four Billion Dollars
Houston Rockets General Manager Daryl Morey tweeted out a simple image with the message "Fight for Freedom, Stand with Hong Kong," on October 4. While the picture seemed innocuous, the situation surrounding it quickly escalated from being about a tweet to involving the loss of billions of dollars.
While Morey quickly deleted the tweet, its effects were felt throughout the world from almost the moment he posted it. Many citizens of China are avid Houston Rockets fans, as many Chinese companies have a stake in the Rockets and the famous center Yao Ming played on the Rockets. However, many Chinese citizens quickly turned on Morey, replying that Hong Kong was a part of China and saying NMSL (which means "你妈死了" and translates to English as "your mother died"). 
"I did not intend my tweet to cause any offense to Rockets fans and friends of mine in China," Morey tweeted in response to the backlash he received. "I was merely voicing one thought, based on one interpretation of one complicated event… My tweets are my own and in no way represent the Rockets or the NBA."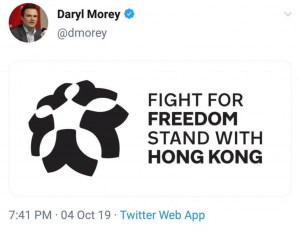 The citizens of Hong Kong and other nations stood with him, with protesters in Hong Kong making signs that said "Stand with Morrey, Resist the Terror."
These comments angered the Chinese Government as well, and they banned Rockets games from being shown on the National Basketball Association's (NBA) streaming service League Pass and national television. The Chinese Basketball Association, whose president is Yao Ming, also suspended all operations and ties with the NBA. 
The situation further escalated when the press started to ask players about the situation. One of the first to be asked was James Harden.
"We apologize. You know, we love China. We love playing there," said Harden at a press conference with Rockets player Russell Westbrook. "For both of us individually, we go there once or twice a year. They show us the most important love."
Afterwards, the NBA went into full damage control, allowing "relevant basketball questions only" at press events.
Just when things started to calm down, Lebron James said, "I don't want to get into a feud with Daryl Morey, but I believe he wasn't educated on the situation at hand."
James' comments ignited another social media firestorm. Protesters in Hong Kong burned James' jersey in the streets, held up printed pictures of James crying to their faces, and made signs with James on them that said "king of Chinese money."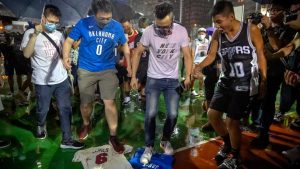 James tried to clarify his comments in a tweet: "Let me clear up the confusion. I do not believe there was any consideration for the consequences and ramifications of the tweet. I'm not discussing the substance. Others can talk about that."
Fans did not take this as well as James probably hoped, as replies on the tweet are filled with jokes at James' expense.
"I was really surprised," Woodside High School sophomore Andres Rodriguez said regarding James' comments. "I expected him to stand up for Hong Kong… Needless to say, he didn't, and I was disappointed."
While the protests in Hong Kong extended to their 63rd day, the NBA worked hard to repair its image. Then, On October 17, NBA commissioner Adam Silver said that the NBA refused to fire Morey at the request of the Chinese government.
"We said there's no chance that's happening," commented Silver, who has previously stated that the league would not apologize for Morey using freedom of expression. "There's no chance we'll even discipline him."  
However, China's foreign minister Geng Shuang refuted the claim and denied that Beijing ever made such a demand. 
"We especially went to the relevant departments to check on this claim," Geng told reporters during the ministry's daily briefing in the Chinese capital on Friday. "The Chinese government has never made this kind of request."
All of this controversy came just a month before the first NBA regular-season games. As those first games began, the controversy was inescapable. Fans stood outside the Los Angeles Clippers and Los Angeles Lakers handing out an alleged 13 thousand t-shirts that said: "Fight for Freedom, Stand with Hong Kong."
During the Clippers and Lakers game, the Clippers ran the Dance Cam. It panned to a child holding a Clippers sweatshirt, but he soon dropped it and revealed a "Fight for Freedom, Stand with Hong Kong" shirt." The camera quickly tried to pan away from him, but it was too late. The child had already become a viral internet sensation.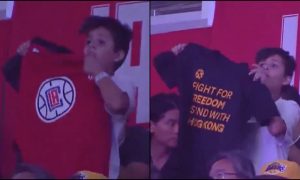 While this situation continues to ravage the NBA's public image, it has brought a spotlight to the Hong Kong protests, which started over a bill that would allow criminals to be extradited to mainland China. 
On October 23, the Hong Kong parliament killed the bill. Although the bill had been removed, the protests moved from the extradition bill to different issues.
"This is a social movement that is very bad at enunciating," said Keith Fredrich, a Woodside teacher who lived in China for seven years. "I think we hear it is about free speech and freedom from mainland China, but with such a large group protesting, there is no clear one thing they want. For example, the housing prices are worse in Hong Kong than in the Bay Area."
Fredrich then elaborated on his comments.
"They could be arguing over their democracy," Fredrich added. "Under the two-party, one-country system, [Hong Kong] is supposed to have a full democracy by 2047. Now their parliament is 40 elected officials and 30 business officials, they could be protesting for full democracy."
While the protests continue to rage and separation continues to grow between China and Hong Kong, the NBA is stuck in the middle of the issue.
"I don't think the NBA made the right decision, even if it saved some of their profit margins," Woodside junior Nathaniel Klug commented. "The damage has already been done."