NCAA Threatens to Ban California Schools from Competition Following Senate Bill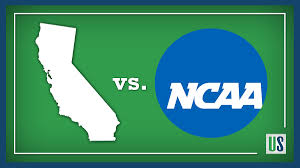 California's state Senate unanimously passed Senate Bill 206 on September 12. This bill would collegiate athletes to earn money from their likenesses. The bill also passed unanimously in the state Assembly, sending it to Governor Gavin Newsom's desk. He has 30 days to sign it into law; if signed, it would come into effect on January 1, 2023.
Although the bill passed easily through the California government, it has been met with pushback: the governing body of all collegiate sports, the National Collegiate Athletic Association (NCAA), has come out against the bill. They claim that the bill would give schools in California an unfair recruiting advantage, and they have even threatened to ban all 58 California colleges from competition.
The NCAA has since continued to express their displeasure of the bill, going as far as sending an official letter to Newsom voicing their side.
"It would erase the critical distinction between college and professional athletics and because it gives those schools an unfair recruiting advantage, would result in them eventually being unable to compete in NCAA competitions," the NCAA wrote in a letter to Newsom. "These outcomes are untenable and would negatively impact more than 24,000 California student-athletes across three divisions."
Senate Bill 206 also gathered negative attention from former athletes, with former Florida Gator quarterback Tim Tebow voicing his disapproval of the bill on First Take.
"I feel I have a little credibility and knowledge about this," Tebow said. "When I was at the University of Florida… my jersey was one of the top-selling jerseys around the world. It was Kobe, Lebron, and then I was right behind them, and I didn't make a dollar from it, nor did I want to." 
Despite these comments, most athletes and sports fans have criticized Tebow's stance and shown their support for the bill. Even professional athletes like Los Angeles Laker LeBron James, who didn't attend college, have spoken out in favor of the bill.
"Everyone is California: call your politicians and tell them to support SB 206!" James said on Twitter. "This law is a GAME CHANGER. College athletes can responsibly get paid for what they do and the billions they create."
Former collegiate athletes have also shared their stories of what college was like playing sports without pay and why they support the bill. Former collegiate athlete and current Woodside teacher Justin Andrews shared his story of playing football for the University of Oregon. 
"I had a lot of good experiences and made some great friends," Andrews said. "[I] got to experience all that big-time college football brings, which was spectacular. But there were some very hard times. Every day was rough… every little bit helps."
As of September 27, Newsom has yet to sign the bill or publicly express his opinions about it.
"I think it is an excellent idea and way too long overdue," Andrews added. "If I could have found a way to pay for even a few lunches, that would have been great."