Golden State Warriors Sweep Portland Trail Blazers in NBA Playoffs
The Trail Blazers were unable to keep up with the Warriors, losing 4-0 in the NBA semi-final playoff series.
It only took four games for the defending National Basketball Association (NBA) champions, the Golden State Warriors, to defeat the Portland Trail Blazers in the semifinals of the NBA playoffs.
With this win, the Warriors will advance to the NBA championship, sending the Trailblazers home empty-handed. Game four of the semi-finals was an exciting game throughout, eventually culminating in overtime.
"The Trailblazers couldn't hang with us," Alton Sands, a sophomore and Warriors fan at Woodside High School, stated. "That series was too easy for the Warriors."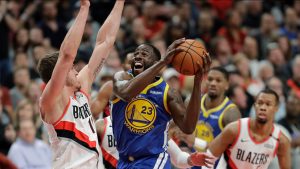 Big names from the Warriors roster such as Stephen Curry, Draymond Green, and Klay Thompson continuously put up big numbers. The Warriors were able to control all four games without superstar Kevin Durant who suffered an injury during the previous playoff series.
Injuries were also a factor for the Trailblazers. Many Portland fans were left wondering if the outcome of the game would have been different if they still had Jusuf Nurkic, who, prior to the playoffs, suffered a gruesome leg injury.
The Warriors are scheduled to play either the Toronto Raptors or the Milwaukee Bucks in the first game of the finals on May 30.
"Warriors are going to win the whole thing again this year, just watch," Sands remarked.