Cross-Country Conquers at CCS
One runner made it to state and others won medals at CCS
Woodside's Varsity Cross-Country Team ended the season with one runner going to state, two runners earning medals at the championship meet, and both the boys and girls varsity teams in the top ten in the Bay Area for division II.
Woodside takes pride in their sports teams, but some sports have clearly outshined others. Cross-country has had a surprisingly good season, partially because of the new coach, Humberto "Al" Hernandez, who pushed the runners to do their best. Both the boys and girls varsity teams made it to Central Coast Sectionals (CCS) and they ran more hard than they had done in any other race. The girls varsity runner Sarah Perry, a Woodside junior, made it to the statewide meet and will compete for the state championship. Sarah Perry and Casey Orton won medals at CCS as well.
"I am really proud of all of the runners," Hernandez commented. "[The team] worked hard every day and I was hard on them, but it paid off."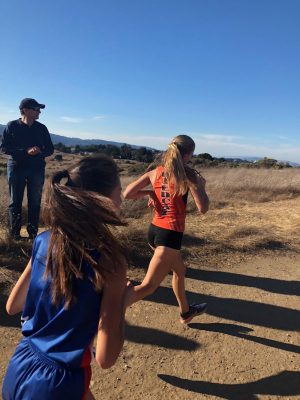 Hernandez is a new coach to Woodside and he was hired to make the cross-country team more competitive. He held intensity workouts twice a week that pushed the runners out of their comfort zones but ultimately made the team stronger. The team started practicing in early August before school started. Hernandez pushed all of the runners hard in every practice.
"Coach is a lot more aggressive and intense than any other coach I have had," Zag McDowall, a senior on the junior varsity team stated. "Overall, he helped me and my teammates improve.

In addition to the new coach, the runners on the varsity teams made this season unique. Usually, there are not many underclassmen on the varsity boys team, but this year there was one freshman and four sophomores.
"I feel honored to be running with older, faster kids," Kai Steiner, the only freshman on Woodside's boys varsity team said. "It is a bit of a challenge, but it is nice to know that I have earned the 'right' to run with them."
An even bigger difference was the variety runners on the girls varsity team. The team consisted of six underclassmen—which is almost unheard of—and there is only one upperclassman on the team. 
"
[The team] worked hard every day and I was hard on them, but it paid off."
— Hernandez
"This is my first year running cross-country in a highly competitive environment," commented Eloise Sampson, a freshman on the varsity team. "I am really enjoying running with the older kids because I am also learning from them as opposed to just running with them."
Woodside's cross-country teams have not always done as well as they did this season. Not one of Woodside's cross-country team has ever made it to state as a team, and only two individuals have made it to state: one girl in 1987 and another in 2008.
This year, Perry's name is being added to the list.
"Making it to state is a huge step for me," Perry explained. "I am very excited!"
Perry has been running cross-country for eight years and she is the number one runner on the girls' varsity team, meaning that she is the fastest runner.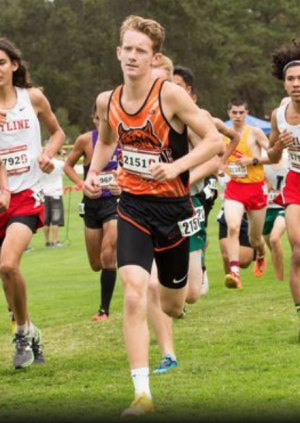 "I love running," Perry said, "I run cross-country because the team atmosphere is positive and the sport is rewarding."
As the season progressed, the runners started running better at every Peninsula Athletic League (PAL) meet and invitational they participated in.
"Towards the end of the season, when we were close to the championships, both teams were trying so hard to go that extra mile," Coach Hernandez recalled. "The team also became like a family, always laughing and joking."
Overall, the cross-country team made themselves noticed by conquering every hill in their path—literally.
"As a whole, the team was very strong," Perry described. "We came together as a team and improved a lot from the beginning of the season."