Supreme Court Decision Could Possibly Lead to The Legalization of Sports Betting
One of the most important decisions regarding sports betting is currently under legal consideration.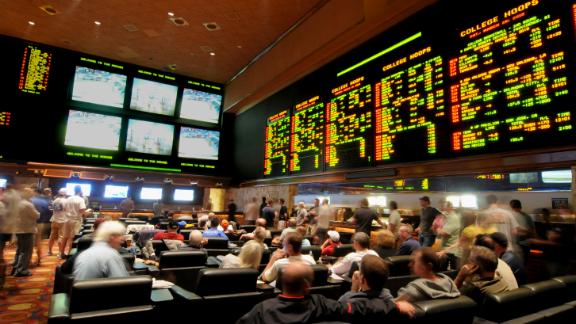 The Supreme Court is currently deciding on what is quite possibly the most important sports-betting case in United States history.
State laws regarding sports betting have remained dormant since the implementation of the Professional and Amateur Sports Protection Act (PASPA) of 1992. PASPA prevented states from the legalization of sports betting for over two decades, however, discussion of the possible overturn or repeal of the legislation are currently in the works. According to ESPN, possible future dates for the decision are April 2nd and 30th. However, the decision could prolong into May or June.
Several Woodside High School students say that the decision wouldn't have much of an effect on current sports-betting.
"
Never bet against Mayweather, that guy always wins."
— Chris Gutierrez
"I'm not too surprised it would be legalized to tell the truth. Despite it being illegal, people still continue to bet on things like the Super Bowl or any kind of important game," stated senior, Humberto Cruz, who watches sports frequently.
Events such as the Super Bowl or popular WBO boxing matches remain common events to gamble on, and despite it not being legal, it's always remained a popular pastime for sports enthusiasts who choose to participate despite the potential consequences of losing quite a bit of money in the process.
"People tend to lose a lot of money in the process, but I don't think it would be too harmful if it were to be legalized," stated junior, Daniel Garcia who watches soccer and basketball from time-to-time.
Those who win frequently often end up being betted on more frequently. Fighters such as Floyd Mayweather or Stipe Miocic tend to have a larger probability of winning due to their winning streaks.
"Never bet against Mayweather, that guy always wins," stated junior, Chris Gutierrez who was referring to Mayweather's undisputed 50-0 boxing record.
According to an article from ESPN from March 21, the only state with fully-legalized sports betting is Nevada. Meanwhile, bills have been passed in Pennsylvania, West Virginia, Mississippi, Connecticut and New Jersey, but can't be activated due to PASPA's sports betting ban being implemented across the states. The ineffectual nature of the supreme court decisions is due much to the way business is conducted in the court. 
"The main issue that gets in the way of case resolution is when a majority of justices cannot find consensus in the outcome," commented Adam Feldman a postdoctoral fellow at Columbia Law School and EmpiricalSCOTUS.com, a quantitative research site.