Girl's Soccer Success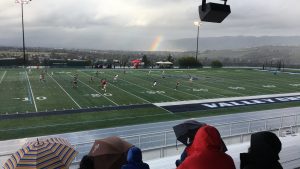 The Woodside girls soccer team CCS run ended this past Saturday as the wildcats fell to the Saint Francis Lancers in a 2-0 contest.
This is now the fourth straight year that the Wildcat's have made a long run into CCS and have made it into the championship game. This year for the team, they held a 5-4-6 record during the league portion of their schedule, which wasn't up to the previous standards of some of the legendary teams in Woodsides past seasons. Some of the difficulty that the team had during the year is due to the improvement of the PAL as a whole.
"Our toughest opponent this year was definitely Menlo-Atherton because we won, lost, and tied them throughout the season," Senior defender, Raquel Krampert commented.
The varying results this year can be mostly attributed to the different abilities of the girls of this years team.
"The team this year is different because instead of having a few star players that the team relies on, we have a group of hard working players that the team relies on that come together to work hard," Krampert added.
Not only did this years team change their work ethic, but they also transformed their mindsets for success.
"The key to our success would be our humble mentality," Senior Goalkeeper, Kayla Zuniga stated. "We aren't overly confident and we see ourselves as underdogs, and this drives us to put in all of our effort to come out on top."
Their humble mentality combined with a solid work ethic was key in getting to the CCS championship matchup against highly touted Saint Francis who comes from the talented West Catholic Athletic League.
"We refused to give up and we left everything on the field. This season we definitely had to fight for our place more than previous seasons," Zuniga added.
Despite the loss in the championship, the girls team this year believes that they made strides in the right direction that will lead them to be more successful next year by building strong relationships with each other.
"I honestly loved all my teammates. Everyone gets along so well and there was definitely a lot of chemistry between all of us," Zuniga finished. "Coach Jose pushed us to never quit and rise above what other schools thought of us."