Sprinting to the Finish Line
An inside look at the WHS cross country team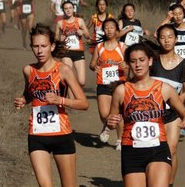 The Woodside High School cross country team has been practicing for months, and they hope for a successful season this fall in the Peninsula Athletic league.
Although cross country is a largely unattended sports event at Woodside, the team is full of surprises and excitement. Cross country is surprisingly diverse and full of different athletic abilities. With a whopping 72 Woodside High School student athletes on the team, cross country is a great place to compete in a worthwhile sport while gaining valuable athletic experience.
"The races are usually about three miles. it usually starts with varsity boys and varsity girls, then goes into the frosh soph races," stated team captain, senior Anika Delfs.  "For cross country varsity, there can be up to seven people racing, but only the five fastest times are counted for the team unless two schools score the same, which means that the judges take into account the sixth and seventh racers' times."
Cross country is much more than just a sport, as it serves as a vehicle for forming friendships that last a lifetime.
"My favorite part about cross country are the team meetings, the bus rides, or just hanging out with my teammates after the meets," senior Justin Swan states.
Friendship is a key part of cross country, and the daily practices are the perfect way for underclassmen to become involved.
"Freshman year, when I joined, I got to know a whole bunch of sophomores, juniors, and seniors within two weeks of being on the team," sophomore standout, Nathan Bowman said. "I can see that I've made friends with a lot people through cross country that I otherwise wouldn't have."
While making friends is a big part of being on the cross country team, there is a competitive spirit in the heart of every player in each practice and meet.
"There are seven spots on varsity. We won't always have the same people running varsity in our meets; it depends on who has proven to work hard," Delfs stated.
Similar to most varsity sports, the cross country roster changes week by week depending on what the coach thinks is best for the team.
"Commitment is huge. If there are sophomores or freshmen working hard and putting in more effort than juniors or seniors, then the coaches may choose to put them on varsity for the meets," added Delfs.
The Woodside High School cross country coaches are very experienced and are well respected by their runners.
"I like the coaches. I know coach [David] Hartford travels around the world to run in marathons and invitationals which is pretty neat," said Swan.
Several standout athletes make the Wildcats cross country team successful this year.
"On the boys' side we are very compact and always together during practice. Our key runners are Christian Canellos, Casey Orton, Daniel Longo, Zephyr Granger, Ronan Morrill, Joe Balsama, and myself," Bowman added. "For girls it is Izzy Couch, Anika Delfs, Sophia Sugesta, Katie Meade, and Sarah Perry."   
Despite the blazing speed of all of these student athletes, fan attendance at cross country meets is surprisingly low.
"We don't have home meets because Woodside doesn't have a course close to the school," Bowman stated. "Also, it's not much of a spectator sport which means that we don't get a lot of people at our meets from Woodside."
Instead of going to another football game on Friday night, cross country members recommend that Woodside students witness the excitement of a Wildcat cross country meet.
"A lot of our meets are in Half Moon Bay; so kids should come support us and then head to the beach and make it a day!" declared senior, Izzy Couch.