Mayweather V. McGregor: The Money Fight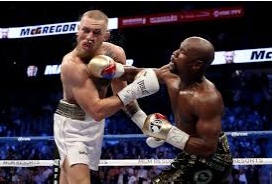 Fighters Floyd Mayweather and Conor McGregor heavily publicized their fight, sparking serious debate over who would win their Saturday mega bout.
Rumors had circulated that the two fighting moguls would spar one day, however in August 2016 it had been confirmed that it had become a possibility due to McGregor offering a $100,000,000 to challenge him. However, no exact date had been determined up until this March.
A vast majority of Woodside students had hoped that underdog McGregor would defeat the boxing icon Mayweather because he hadn't boxed in a since his fight with Andre Berto in 2015, and it was about time for his 49-0- win streak to be broken.
"McGregor, he's my boy. I'm all about McGregor. Streaks are meant to be broken,"  junior Alexis Cuevas told the Woodside World.
However, others had expected the boxing mogul to keep his winning streak due to his strong defensive form shown in previous fights, including his 2015 super-fight against Manny Pacquiao . His supporters believed that his undefeated record was a strong indicator he would win.
"Mayweather, because he's an actual boxer,"  stated teacher, Aaron Vanian regarding Saturday night's fight.
On the night of the fight, many students watched the fight with friends, either tuning in to someone streaming it on Instagram Live or shelling out $100 to watch it on their own on Pay-Per-View. Mason Moss a Woodside senior, had viewed the fight via Instagram and wasn't too surprised with the results.
"[I was] Not surprised. The fight wasn't very interesting, but was more interesting to watch than the Mayweather/Pacquiao fight," Moss said after the fight ended.
Students were surprised to see that the UFC champion held his own up until Round 10, after which he grew tired of Mayweather dodging and blocking a lot of his punches. Eventually, McGregor's lack of stamina lead to Mayweather nearly knocking him out, ultimately ending the fight after the referee called a "technical knockout."
"I should've bet money,"  claimed senior, Humberto Cruz who was confident in Mayweather winning.
Others, like junior Phillip Barrett,  expressed their disappointment at McGregor's loss: "I wanted him to win, but what are you going to do,"
After the fight was over, Mayweather leapt to the corner of the stage yelling a victory roar; a roar which marked  the end of Mayweather's dominant boxing career. In his last-ever fight, he seized a 50-0 boxing record, surpassing boxing legend Rocky Marciano's record by a single win.
As for McGregor, it is unknown if he will return to boxing or stick to his roots in MMA (Mixed-Martial Arts). However, his fight against Mayweather proved to be a true test of strength for him, as he managed to endure ¾ of the fight, despite never having boxed in a match before.
"I could have sat back and just boxed and counterpunched and made it boring," Mayweather said after the fight. "I didn't want to do that. I felt like I owed the fans a last hurrah."