Basketball Senior Night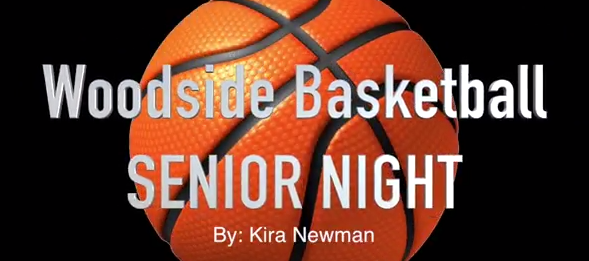 Kira Newman, Photography Editor, Staff Writer
February 17, 2017
Woodside's basketball's Senior Night was a night to celebrate the 2017 graduates including Cesh Reyes, Caitlin Trainer, LeAndra Quijano, Emily Borjon, and Alexa Prado for the girls' team and Evan McDonough, Riley Thompson, Tony Baldini, and Evan Yedinak for the boys' team.
Woodside played Carlmont at home on February 3rd, 2017. Girls' Varsity played at 6:15 and lost 25 to 52. The Varsity Boys played at 7:45 and won 57 to 54. Both teams played excellent games and impressed both their coaches and the spectators.
The Varsity girls are coached by Ron Rossi. He has been coaching at Woodside for three years. He has known the senior girls for the time he has been here.
The Varsity boys are coached by Roddy Harrison. He has also been coaching here for three years. Same as Coach Rossi, he has known the seniors for all of his years coaching for Woodside.
Coach Rossi believes that the senior girls have become smarter both on and off of the court as he has seen them grow over the last few years.
"On the court, their basketball IQ has increased, their skills have increased, they've learned to play as a team- I know that's cliche but they have really learned it's not about how many points you get, how many rebounds; you just play hard and work on the team goals. Off the court, by far is the community. They would come and go the first year; like "Oh, I gotta do this," "I gotta do that," or "Oh, I've gotta leave early". But now it's on time- we start on time, don't need to be asked and they're committed."
Each girl possesses something unique that Rossi shared.
"Well, LeAndra is a ball of fire- full of energy, never gets tired, never quits- never quits." LeAndra Quijano is a point guard. She is also one of the captains. "At times, she's probably the most skilled."
"Alexa is a gym rat, she want to continue to get better. She listens really well, I mean, she listens really well. Has great great vision- like she sees people open and she can do everything well." Alexa Prado is a small forward and shooting guard. She is also one of the captains. "She's not great at any particular thing- and I don't mean that in a negative way, I mean she's good at everything."
"Emily has become a good spot-up shooter. She's learned to not try to go out of her element. So she doesn't try to do things she knows she's not good at." Emily Borjon is a shooting guard. "She's not safe, she's just smart. She's become a better shooter and become a very good defender."
"Well Cat has always had, like if not, the most talent- one of the most talented. I think that what makes her unique is she has the speed of a smaller person but she's in a larger, taller body." Caitlin Trainer is a forward and the other captain on the team. "She can jump, she has a nice shot, she's left handed; which is very odd for the defense- left handers usually have a slight advantage. She's improved a lot, I mean, she's playing so much better. I was always kind of thinking, "I know she has more in her" and this year I think she's bringing that out."
"Well, Cesh gets nervous but what makes her unique is, one thing, is she will do anything for the team; she will volunteer for anything, pick up balls, nothing is beneath her." Cesh Reyes is a shooting guard and small forward. "She's improved in her shooting, improved in her passing, she's working hard on defensive… If I was hiring somebody for a job, Cesh would be the person, on this team, that I would hire."
All of the girls contribute different skills to help the team and make the season fun.
Coach Roddy believes the senior boys have come a long way from the start of the season, as a community.
"I've been here for about three years and it's just you know- we haven't been a winning program, so it's getting these guys from when I came in on day one with my assistants; Coach Bell and Coach Yo, working on just basic fundamentals and just finishing games."
He shared unique aspects of the boy's abilities.
"So I would say with McDonough, he brings his shooting- for a big guy he can shoot, so a lot of our offenses spread the floor, kick it and shoot. For him being such a big guy, him being able to shoot is great."
Evan McDonough plays center and power forward.
"Yedi is kind of or swiss army knife, you know, he can do just about anything. He can dribble the ball, he can shoot, he's a slasher."
Evan Yedinak is a small forward and power forward. He is also one of the captains.
"Riley is our energy guy, Riley brings the energy off the bench. The tenacious defense that he brings."
Riley Thompson is a small forward and point guard.
"And Tony is just, he's our shooter, right. We know to give Tony the ball- Tony's wide open. He's in the shot."
Tony Baldini is a shooting guard and point guard. He is also a captain.
The girl's coach expressed how he would miss the senior girls however, he added that this is something that coaches have to come to grips with as it happens every year.
"Part of coaching high school basketball is that every couple of years is a turnover. But I think the younger players are going to have great habits such as being on time, being there- they know that already. Now I don't have to teach that anymore."
The boys coach shared similar beliefs regarding the members of the team who leave every year but he understands that this comes with coaching.
"You know, so we're a pretty young team so next year, I would say, we should be hitting the floor running; there shouldn't be much of a rebuild. Like I said, we're a young team so our core is still pretty much intact. So I don't see much change in next year, if anything we should be progressing into something a lot better."
Both coaches believe in their seniors and saw what great games both teams played. It is not always about winning and losing; sometimes the community aspect of the game is the most important part.
Coach Roddy explained that the teams should, "Continue to fight and continue to develop that perseverance and I feel like, as players, there's more to life than just basketball. You know, you're going to have fights, you're going to have struggles, and everything that you do- on or off the court- so it's just continuing to fight and continue to progress."
He connected basketball to life where not everything is fair. Coach Rossi had a similar take on the concept of life versus basketball.
Rossi asked that the girls would, "take some of the things they learned in basketball; teamwork, sportsmanship, how to get along with people- lots of people, you spend a lot of time together, commitment, hard work-brings great results. You know, sports are not fair; I mean the refs try to be fair but the teams aren't equal, the ball doesn't bounce equal, life's not fair. So learn that sports kind of emulates life in that sense."
Senior Night was, conclusively, a good night for both teams even with a loss for the girls. The teams will continue to progress but will miss the players who graduate every year.
The fans, students, parents, staff, coaches, players and Woodside World staff congratulate the 2017 graduates.