Pelosi Steals the Show at the State of the Union
Trump's speech was not the most exciting part of the night.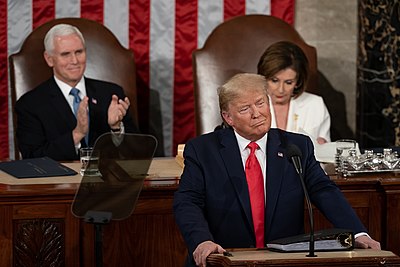 President Donald Trump delivered his third drama-filled State of the Union Address on February 4 in the midst of his impeachment trial.
Trump never explicitly mentioned impeachment, but the tension between him and House Speaker Nancy Pelosi during the address was palpable. After the speech, Pelosi tore her copy of the transcript in what appeared to be retaliation for Trump's refusal to shake her hand. However, the tension of the night extended beyond the conflict between Trump and Pelosi.
"There were a lot of Congresspeople who were saying, 'I'm not going to go,'" Jesse Manzo, a government teacher at Woodside, pointed out. "I've never seen that, as much as I've been following politics. That stood out to me much more than anything from the speech itself."
Three Democratic Congressmen — Tim Ryan (D-OH), Seth Moulton (D-MA), and Bill Pascrell (D-NJ) — left the address early as a statement against Trump's behavior, adding to the night's political drama. Others, including Ayanna Pressley (D-MA) and Steve Cohen (D-TN), completely boycotted the event. Still, Pelosi's transcript tearing was the most talked about event of the night.
"I thought it was disrespectful, and I also think that what Trump's been doing is disrespectful," Manzo reflected. "I think that's just toxicity that doesn't need to be in politics. It makes a good picture, it makes a good GIF, but aside from that, what was the point?"
Some believe Pelosi's actions were uncalled for, but a statement like the one she made was unavoidable. Trump has repeatedly made jabs at Pelosi and her involvement in his impeachment, including refusing to shake her hand before his address. Pelosi's response was justified, and it achieved her goal: to make a political statement and draw attention partially away from Trump.
There were many issues with the State of the Union beyond the political turmoil surrounding it.
"At the beginning, he was making a bunch of claims, and the whole time I was wondering whether they were true or not," Woodside senior Noel Salmeron stated. "I found a New York Times [fact-checker] and I found out that a lot of [Trump's facts] were exaggerated or needed more context, which I don't think is good for the public to be hearing, especially if they don't fact-check stuff."
The New York Times fact-checker revealed many instances of misleading claims, ranging from partially correct analysis to flat-out incorrect statements. For example, Trump stated that the United States-Mexico-Canada Agreement would generate about 100,000 high-paying American jobs in the auto industry — however, the International Trade Commission, a nonpartisan group, states the agreement would only generate about 28,000 American auto jobs.
In this political era, the country is separated by party lines. A survey published in The New York Times in 2019 found that 91% of Americans believe the country is divided over politics, and 59% of Americans feel pessimistic about the ability of people with different political beliefs to work together. If Trump continues to make erroneous statements, the polarization Americans face will only get harsher. Progress can only be made when Americans are able to reach across party lines to help each other, but the respect that is required to do this cannot exist until Trump respects facts.
"I think the big question that people were asking was if [Pelosi tearing the transcript] was disrespectful, especially to Trump's guests," Salmeron said. "I think it was completely directed towards Trump and not in any way disrespectful to the people. I think it was justified because a lot of his speech was just fluff and lies."