J is for Justified
Woodside's Critique of the J-Wing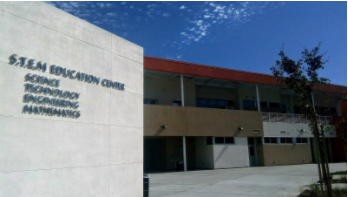 After sixteen months of construction, the new J-wing is finally open for STEM (science, technology, engineering, and math) classes― but does it meet Woodside's expectations?
The approval of Measure A provided funds for the J-wing in June of 2014; however, construction did not begin until May of 2016 and remains in progress.  Diane Burbank, Woodside High School's principal, oversaw the construction and collaborated with the school community to give information to the architect.
"Robotics was growing and in an old space," Burbank explains.  "Chemistry was in an even older space…  And we needed more room for the coding classes."
Yet the building is by no means perfect.  Burbank clarifies that it remains in the "punch list" phase, during which the staff keeps a running list of problems requiring attention.
"One of those things is there's no gas delivery yet in the chemistry lab, and we have to fix that," Burbank recounts.  Another thing is that we had a leak in the back room of chemistry, and we're fixing that.  And on those really hot, hot days last week, we discovered that the air conditioner… created an overflow of water and made one of the ceiling panels fall through and water come down through the ceiling."
Regardless of the complications, teachers and students appreciate the added classrooms.  Among these is Jonathan Stewart, an Algebra 1, Algebra 2, and statistics teacher.
"By building a new wing we're modernizing the campus; it's allowing students to experience school in the 21st century," Stewart asserts.  "All the benefits that students get by having classes here outweigh any minor defects, and all the minor problems are getting taken care of anyways."
Diep Nguyen, a recent recruit to Woodside this year, teaches Algebra 1 and 2 in the J-wing.  She loves her room despite the temporary technical difficulties.
"A few things still need to be fixed, but overall we have a lot of sunlight here and it's very spacious," Nguyen describes.
Adrienne Evans, the sophomore class president, takes AS Chemistry in the J-wing.  She approves of the building, though she finds its location inconvenient.
"Just having a new facility and classroom space makes me more motivated to work… I like the large space; it feels more open," Evans states, echoing Nguyen's sentiments.
The nearly-finished J-wing pleases Burbank, particularly through its positive impact on campus.
"It's better than what I expected because what I can see now is not only the building, but also the student reaction to the building," Burbank remarks.
She does not regret constructing it, feeling that last year's construction-related difficulties proved worth the trouble.
Nevertheless, she hopes to fix the remaining issues as quickly as possible, reasoning that, "At the end, it's the contractor, the architect, and the school that really have to work together to solve these problems before they leave and the school has [the building] forever."