Shock swept through campus as Queen Elizabeth II of England passed away on September 9, 2022, at 96 years old. Queen Elizabeth was the longest-serving monarch in the history of the British monarchy. 
Staff and students were stunned by her passing. Queen Elizabeth II played various roles in her time as a monarch. Her reign as Queen also left behind a wealth of historical information. Staff at Woodside praised the Queen for the way she ruled.
"She volunteered a lot of her time," ILS aid Daniela Brown said. "She helped a lot of different people, which is lovely. She made a difference. It was [complicated] to become a queen at 26 [years old], especially when you have [more senior] men probably trying to boss you around; you have to be [solid] and firm with your opinions."
Special Education Teacher David Edel was shocked upon hearing the news of Queen Elizabeth II's death.
"I was somewhat emotional about her passing," Edel said. "I was shocked in a way when I heard she passed. I had heard that she wasn't doing so well in the morning but still, despite her age, I was shocked about how quickly that occurred. I was nostalgic about her reign, the things that shepherded separately or through in terms of difficult times."
Senior Dean Cunanan remembered Queen Elizabeth II's sense of humor as a public figure.
"Every interview or everywhere she goes, she [made] people laugh, even though she [didn't] 't try to do it," Cunanan said.
Instructional associate Debra Adler was inspired by how Queen Elizabeth II independently lived as a queen in the public eye.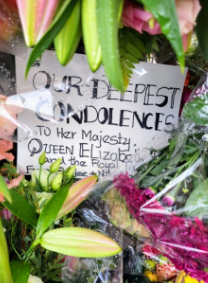 "She mostly inspired me [by] the way she handled being a public figure and having to do with [a] personal crisis in her life," Debra Adler said. "To separate your personal feelings and what's best for the country [makes] an influential, intelligent person. That's the thing I admire most about her." 
Cunanan was not surprised by the Queen's death soon after Prince Philip passed last year. 
"My family already predicted [it] because it's a myth, In the Filipino culture. If one's husband or a partner dies… The other partner [is] going to die soon, too. It's about the time," Cunanan said.
Queen Elizabeth II has passed away, but her role as a queen will live on many people's memories worldwide.
"She's [a] pretty decent person, as far as I can tell," Special Education Teacher David Edel said.