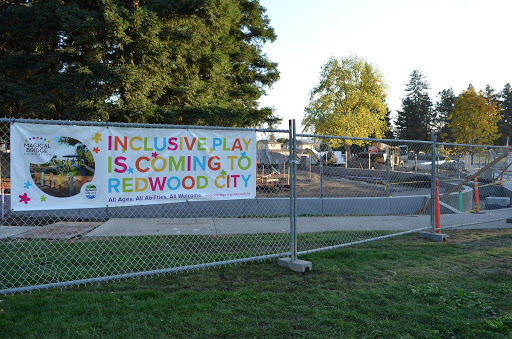 A Magic Bridge Playground for all abilities is opening in Redwood City around March 2020 and will need student volunteers.
Magic Bridge is a nonprofit organization that creates playgrounds accessible to everyone. They are looking for student volunteers to help at the already-existing Palo Alto location as well as at future parks. Their Palo Alto playground receives over 25,000 visitors a month, and the new Redwood City location, which will be twice the size, is expected to attract even more.
"The goal of Magic Bridge Playgrounds Foundation is to build playgrounds that meet the needs of absolutely every single person in the community," founder and Executive Director Jill Asher said. "[These people include] the very young, very old, everything in between, those with disabilities, and those without. We believe that absolutely every single person in your community deserves and needs a place to play at every stage of life."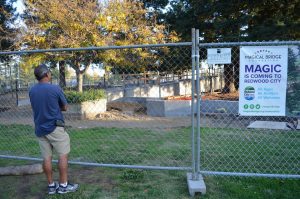 Currently, Magic Bridge is seeking a variety of volunteers.
"We have a Teen Kindness Ambassador Program where teens can volunteer for now at Magical Bridge Palo Alto," Asher explained. "Once we open Redwood City, we're definitely going to need Kindness Ambassadors, and they get community service hours." 
The Volunteers at Magic Bridge Playgrounds, also known as Kindness Ambassadors, help the organization with activities that take place at the park.
"Mostly I do Facebook live videos, but that's kind of my specialty," described Woodside senior Colin Wilfrid, a Kindness Ambassador and Playground Reporter who records footage for the organization. "Other people float around and do face painting [and] give a simple greeting. They also do activities."
Kindness Ambassadors also make sure that all of the visitors are included.
"[Kindness Ambassadors] just make sure that the kids are having a good time [and that] everyone is included," said Grace Jau, a Kindness Ambassador and Woodside junior. "[Kindness Ambassadors] play with the kids and make sure everyone's having a good time and that everything is safe."
The organization plans to construct additional parks in Morgan Hill and Sunnyvale, and construction will begin at the end of 2019. Construction for parks in Santa Clara and Mountain View will begin in 2020.
"We are also redoing all of … the elementary school playgrounds in Palo Alto," Asher explained. "We're going to be working on school yard solutions. Then, we plan to announce projects internationally and outside the Bay Area in 2020."
As for the importance of having Magic Bridge Parks, Wilfrid said, "I think [the visitors will] come to realize that all kids are created equal, whether they have disabilities or not."
Students can sign up to volunteer at Magic Bridge Foundation's website.