Pop star Taylor Swift is back with her new single "ME!" featuring lead singer Brendon Urie from Panic! At The Disco, sending fans to scour her new music video for clues about her seventh album.
The music video premiered April 26, 2019, and its 65.2 million views quickly broke YouTube's record for the most-watched solo or female artist in 24 hours. While the song has been criticized as somewhat unoriginal, childish, and too simple, the technicolor video has been generally praised as visually stunning and a refreshing change from her reputation era.
"Regarding Easter eggs… there are a lot of them in this video," Swift revealed in a YouTube Q&A. "Some you'll find out right away and some will take a minute to reveal their meaning."
A myriad of theories circulated on all social media platforms as fans analyzed every detail in the music video. The day after the release of "ME!" Swift further explained that her fans were missing some of the most significant Easter eggs hidden in her music video.
"So… the new album title is actually revealed somewhere in the video AND so is the title of the second single, but I haven't seen people finding them yet," Swift said on Twitter.
Key hints about her new era first began back in March. Just as a snake symbolized her edgier persona from reputation, Swift has chosen a new animal to represent her seventh album: a butterfly. Fans were quick to notice that Swift's butterfly high heels on the red carpet at the iHeartRadio Music Awards in early March.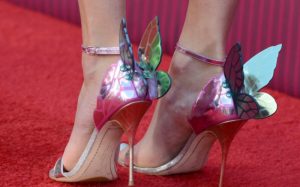 And they were right. Swift's symbolism in the beginning of the music video of "ME!" is unmistakable; a pastel snake slithers across rainbow tiles, hissing at the viewer before bursting into a group of rainbow butterflies. From the start, it's clear that Swift's new era is about personal growth and positivity— a significant change from reputation's themes.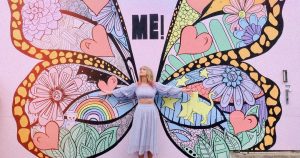 The opening rainbow tiles also might be a connection to Swift's poem "Why She Disappeared," which was featured as an interlude at her Reputation Stadium Tour. Fans connected the rainbow tiles to the opening lines "When she fell, she fell apart / Cracked her bones on the pavement / She once decorated / As a child with sidewalk chalk."
Fans also observed that ME! turned upside down appears to be a 13W, which could potentially represent 13 weeks until her album release or an announcement.
We follow the group of butterflies through the window of a building, where we first see Swift and Urie. Viewers noticed a Christmas tree in the background of the scene, seemingly a reference to how Swift was raised on a Christmas tree farm. Other observed a small clock behind Urie set to the time 8:30, potentially representing Friday, August 30 as an album release date.
Swift, pictured with her signature red lip, argues with Urie in French and storms out of the room. In the cerulean blue hallway, Swift's upset expression instantly transforms into an excited one, and she sings the introductory line "I promise you'll never find another like me" with a wide smile on her face. Pointing out that French is known as a language of love, some fans believe that the language is a potential clue to the theme of her next single.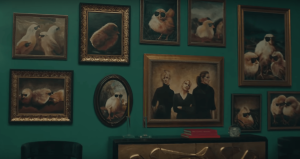 The video briefly returns to a brooding Urie at the line "there are a lot of cool chicks out there," where he stands in front of a wall with framed photos of chickens in sunglasses. People noticed that an image of The Dixie Chicks was hidden among the photos, leading fans to wonder if Swift is hinting at a collaboration with the band.
Radiating confidence, she strides down the hallway, entering an elegant room filled with nebulous clouds— thirteen clouds, to be exact, leading some Swifties to suspect that the seventh album will be called 13. Additionally, the background that Swift has used to promote "ME!" is a dreamy background of pastel clouds.
Swift passes through the cloud-filled ballroom and gestures at a pink telephone, most likely a reference to her famous line "The old Taylor can't come to the phone right now / why? because she's dead" from "Look What You Made Me Do."
Swift continues through the room, and an enormous cloud shaped like a snake forms and swallows her whole, but it quickly disintegrates into mist. Some believe this is another reference to her reputation era and how Swift has risen like a phoenix from the ashes.
As Swift leaves the room, shadows appear behind her for a brief moment, which fans speculate are representatives of her past personas. One of the shadows appears to wield a golf club; in "Blank Space," Swift destroys her boyfriend's lavish car with a golf club.
Suddenly in a pastel yellow suit, Swift enthusiastically dives into her pre-chorus surrounded by dancers in pastels, where she describes her relationship as "like a rainbow with all the colors" and how "when it comes to a lover / I promise you'll never find another like me." Here, her dancers hold up seven suitcases, leading some to suspect that her album will be released on July 13 (7/13), connecting seven suitcases to the 13 clouds in the ballroom.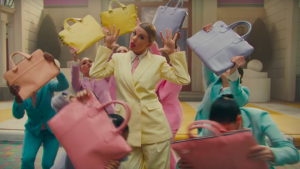 On that last word, Swift immediately transitions into the chorus, singing "I'm the only one of me / Baby, that's the fun of me," in celebration of her individuality. The vivid video maintains a beautiful pastel aesthetic throughout the chorus, surrounded by dancers in light pinks, soft blues, gentle lavenders, and pale yellows.
Urie appears in the second verse, singing as he jumps out a window and floats through the sky with an umbrella Mary-Poppins-style. One of the most significant but subtle aspects of the video is the shimmering, reflective sky; the sky is not a simply a pretty pattern but, in fact, the inside of a chrysalis. The entire video takes place within a chrysalis, connecting to her butterfly symbolism, and "ME!" represents Swift's metamorphosis from her reputation persona to her new, self-loving persona.
Still singing his verse, Urie lands on a roof next to Swift, who wears a flowing, frilly pink dress and sits beside a massive unicorn sculpture protruding from the roof. Fans quickly noticed a neon pink sign that reads "Lover" behind the building with a heart for an "O," leading many to believe that her next single will be called "Lover."
Rejecting Urie's bouquet and diamond ring, Swift gasps when he offers her a blue-eyed kitten. Swift, known as a cat lover and owner, later revealed that she had adopted the third cat to her family, naming him Benjamin Button.
After an energetic dance number and second chorus in a sparkly, heart-shaped tunnel, another theory about Swift's potential album name surfaced. The swirling tunnel appears to be a kaleidoscope, and others observed that a group of butterflies (as seen in the first thirty seconds of the video) are known as kaleidoscopes. Earlier this year, Swift wrote in an article for Elle that everyone searches for "someone who will still choose us even when they see all of the sides of the story, all the angles of the kaleidoscope that is you." Swift also acknowledged that the scene is a reference to the line in "Welcome to New York."
"We did the kind of reflecting back on an old lyric when he [Urie] opens up this heart door in his chest," Swift mentioned in her live chat. "I have a lyric on an an earlier song that says 'kaleidoscope of loud heartbeats under coats,' so he pulls his coat to the side, there's a heart and it goes through a kaleidoscope."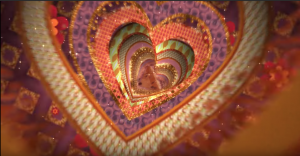 Following the song's bridge and another dance scene in pastels with costume references to the old 1989 hit "Shake It Off," Swift and Urie return to the chorus in a psychedelic spiraling rainbow tunnel. Potentially another symbol or theme in Swift's next album, fans noticed that the stars' suits are decorated with roses, which they connected to images of Swift wearing rose-decorated merchandise earlier that month.
The video ends on a street in a rainbow storm, as bright splashes of liquid color fall from the sky around Swift and Urie. Nostalgic fans noticed that the scene appears to be her old lyric "And I don't know why but with you I'd dance / In a storm in my best dress" from "Fearless" brought to life. Others observed that the scene parallels Swift's solo dance in the rain from her "Delicate" music video at the same timestamp (3:32).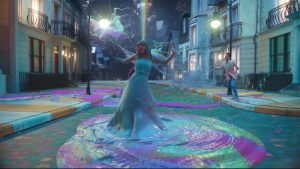 As Urie runs towards Swift, the ends of her blue dress melt into swirling streams of color. Some pointed out the similarities among the dress worn for "ME!", the dress worn in the beginning of "Look What You Made Me Do," and the dress in "Out Of The Woods." Although the dresses have been proven as not exactly the same, anything Swift does is rarely a coincidence, and the eerily similar dresses seem to subtly connect all her three eras.
The two take cover under Urie's umbrella, ending the song with the first line we heard: "I promise you'll never find another like me."
Although Swift has yet to confirm any fan theories, "ME!" has already broken records and soared to the top of the charts. Fans are already excited about Swift's next musical era, and it's no doubt that the music video for "ME!" reveals some major clues.
You can watch the official music video for "ME!" below.