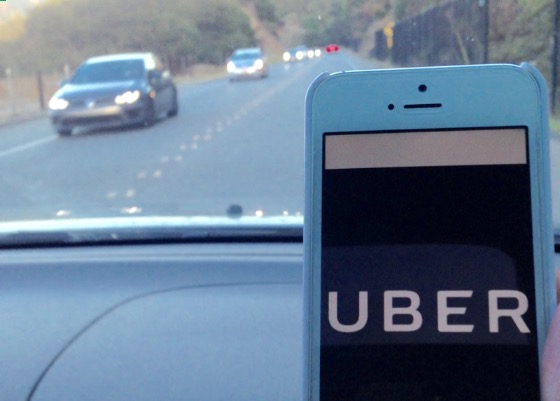 Contributing to Uber's forty million monthly rides, Woodside students commonly use Uber for quick transportation: how safe are students taking Ubers?
Uber, the popular mobile app that allows users to instantaneously access quick rides, boasts a soaring net revenue of $6.5 billion in comparison to its main competitor Lyft with a mere $700 million.  Founded by Travis Kalanick and Garrett Camp in March 2009, the company headquarters is in San Francisco, California but operates in over 600 cities.
Uber requires passengers to be eighteen years or older.  However, it is no secret that many underage students use the app.
Woodside sophomore Jenny Shaw takes Uber several times a month when her parents are unavailable to drive her.
"[Using Uber] is convenient for my parents," Shaw explained, "but not all of [the drivers] are safe.  Some of the drivers I've had… are kind of disrespectful."
2017 has been a rough year for Uber.  A #deleteuber movement in January sparked over 200,000 Uber passengers to delete their accounts, after Uber received harsh accusations that the company attempted to profit from airport customers during protests of President Trump's Muslim ban.
The following month, Uber fired over 20 employees "after former Uber engineer Susan Fowler came forward with allegations that Uber's human-resources team systematically ignored her reports of sexual harassment during the year she has worked for the company."
Junior Steven Nguyen has never taken an Uber before, but he expresses his concerns about safety.
"Ubers could be dangerous," Nguyen claimed, despite his confidence in Uber's reputation.  "[I don't know exactly] who would be driving me and their history or experience with driving."
In order to be an Uber driver, drivers must be twenty-one years or older, pass a background check, and have a minimum of three years of driving experience, a clean driving record, and insurance.
According to the New York Times, "Uber disclosed [November 21, 2017] that hackers had stolen 57 million driver and rider accounts and that the company had kept the data breach secret for more than a year after paying a $100,000 ransom," including names, phone numbers, and email addresses.
This is not the first time Uber has suffered from hacks.  Uber also experienced a data breach in May 2014 when over 50,000 driver accounts were compromised, and the company kept the breach hidden until nearly a year later in February 2015.
Although he has never taken an Uber before, sophomore Alejandro Causor-Gonzalez feels uncertain about both online and physical Uber safety.
"I don't really feel comfortable with giving too much information about yourself on apps," Causor-Gonzalez stated, "and I heard something on the news about an Uber driver beating up their passenger."
An Uber driver was charged with the beating and rape of a passenger on November 29, 2017, and earlier that month, two women sued Uber under claims they were sexually abused by drivers.
Woodside teacher Jacie Krampert has heard similarly unsettling stories about Uber, even though she uses Uber once or twice a week due to its affordability, speed, and reliability.
"I've felt uncomfortable with the driver driving too fast," Krampert admitted, "but I haven't felt uncomfortable like I thought the driver was going to do anything to me.  There have been cases where people have gotten into Ubers that weren't really Ubers and have gotten attacked."
When someone is matched with a driver, the passenger can view driver's information, including name, license plate number, photo, and a rating before the ride.
"It's a double standard," Kramper noted.  "I would go by myself, but I wouldn't ever want my children to go by themselves.  I'm always nervous about any app that gathers my information, but I guess the convenience of it has offset my nervousness… you do make yourself vulnerable to [danger], but it's worth the risk."
Uber's official website has ten safety guidelines for passengers: plan ahead, request your ride inside, get in the right car, be a backseat rider, buckle up, share your trip details with a friend, protect your personal information, follow your intuition, be kind and respectful, and give feedback on your trip.
"Definitely do the safety protocol if you're taking an Uber," Krampert advised.  "Make sure you're actually getting in an Uber.  It's always safer if you're not going alone… and [Uber isn't] always going to be available for you; so don't always think of Uber as your only resort and only way home."