Opinion: "Jujitsu Kaisen 0" leads the storm of animes in America
"Jujutsu Kaisen 0" took American theaters by storm as it became the 10th highest-grossing anime film in the world.
As someone who has never watched any anime besides the classics from Studio Ghibli, I did not know what to expect going into the movie. I was unfamiliar with the concept of curses and anime violence, but that is also what kept me hooked. 
"Jujutsu Kaisen 0" is a dark-fantasy-action anime in a world where humans and demons coexist. This movie is a prequel to the show "Jujutsu Kaisen" and is said to be one of the anime classics among the movies by Studio Ghibli such as "Ponyo," "Spirited Away," "Totoro," and "Kiki's Delivery Service." It is very rare for an anime movie to be shown in American theaters as a mainstream movie. 
The movie follows a boy, Yuta Okkotsu, who is haunted by the spirit of his childhood friend Rika, who died in a car accident when they were young. Her spirit is no longer the sweet girl he promised to marry. Instead, her spirit has been cursed, and she becomes a defensive monster who protects him against his will. She talks in the voice Yuta remembers from their childhood, and she kills people who bully him. Gojo takes Yuta to Jujutsu High School where he can learn to control his curse and be with others like him.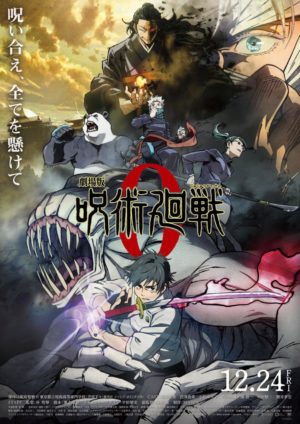 "Jujutsu Kaisen 0" shares a similar story and setting as the show but through the eyes of another character. There is a large fanbase following the show "Jujutsu Kaisen" and there were high expectations for the movie. The movie seemed to have reached the expectations, as it received a Rotten Tomato and Audience score of 98% and became the 10th highest-grossing anime film internationally.
Going into the theater, I did not have any expectations. However, I ended up really enjoying the movie; it was a good movie with a good story. My favorite part was the storyline and characters. Though new to anime culture, I liked the animations and detailed visuals, the characters, and the plot. Despite the movie being in Japanese, the movie was not hard to follow due to the well-played-out scenes and storyline. Because this movie was a prequel to the "Jujutsu Kaisen" series, no prior knowledge is needed to understand the story or characters. There were some unexpected twists as Yuta began learning to control his curse; I think his story was what brought mystery and suspense to the movie. This really hooked me as the kind of movie you could go back and watch multiple times for a new experience each time.
The cons of "Jujutsu Kaisen 0" were limited for me. Some of the dialogue seemed to be lost in translation, so parts, in the beginning, were confusing. It is also usually harder to focus on a movie when there is a need to read subtitles, but I would not trade in reading subtitles for a dubbed version. As the movie progressed it became easier to understand, and by the end, it was almost predictable. 
Overall, I loved the characters, story, and visual animations of the movie. I will definitely have to look into the show now, and I would recommend people who have never watched anime to see this movie.