Anti-Stress, What's That?: A Look at Anti-Stress Supplements
Imagine something that cleared the lingering feelings of stress and anxiety threatening to invade your mind at any moment. A miracle for constant mental struggles. Can such a thing exist? 
With upcoming finals at Woodside, I set out to find the 'miracle' stress reliever by looking at various supplements and apps aimed at achieving pure relaxation. Maybe then, we high schoolers can survive the tumultuous roller coaster of finals week. Or, left stranded against the winds with only the mundane coping methods of… crying to lo-fi music. 
In searching for the perfect anti-stress reliever, I stumbled upon three supplements claiming to have active ingredients that help one find 'zen'. The first supplement is Bach's Rescue Pastilles, a stress-relieving lozenge that comes in four different flavors: cranberry, black currant, lemon, and orange/elderflower. Next is Natural Vitality Calm, a magnesium citrate powder drink mix. The final supplement is Banyan Botanicals Stress Ease, a supplemental tablet for relieving stress. Each of these supplements are powered by a holistic ingredient with most found in simple bushes and forests throughout the country.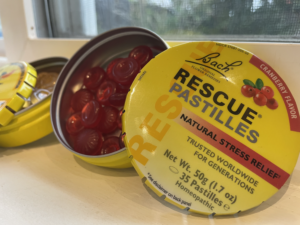 For Bach's Rescue Pastilles, the active ingredients include flower remedies found in the wild plants, bushes, and trees gracing the British countryside. These ingredients are rock rose, impatiens, clematis, star of Bethlehem, and cherry plum, each counteracting a different negative state of mind. These lozenges can be taken as needed by simply slipping one into your mouth and letting the flavor slowly relax you. 
With the Bach's Rescue Pastilles, I tried the cranberry and orange/elderflower flavor, hoping to find a momentary break from high levels of stress as the lozenge slowly dissolved in my mouth. I was sadly let down. The orange/elderflower flavor tasted oddly like fish oil mixed with the bitter rind of an orange. While the cranberry flavor offered a far sweeter taste that was actually pleasant, the feeling of relaxation never truly hit. I did, however, receive a dose of sleep that I very much needed at the time, but it did not overall contribute to my reduced stress. Although I do continue to take the lozenge from time to time and can say that I do feel somewhat clear-headed afterward, I don't feel relaxed.
Similar to the ingredients in Bach's Rescue Pastilles, the natural additive of magnesium, a mineral used to regulate the body's processes, is used as the active ingredient in Natural Vitality Calm. The Natural Vitality Calm is best used by pouring into hot or cold water to find that relief. While studies have shown magnesium as a possible reliever for individuals with mild anxiety, most of the evidence is poor and insufficient to establish magnesium as a stress reducer.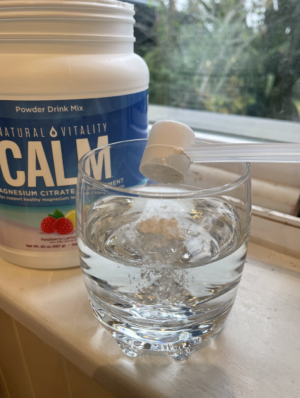 For the Natural Vitality Calm, I dissolved the magnesium powder in hot water and took it right before I fell asleep. The first time I used it, I felt jittery, as if the supplement was running through my limbs and springing them to life. After that initial reaction, I was out like a light and slept soundly. The next time I tried it, I didn't have the jitteriness; however, the same fatigue hit me. Instead of embracing the sleep I so desperately needed at the time, I pushed through due to the immense homework I had and ultimately eliminated the effects of the supplement. From these experiences, I'd say Natural Vitality Calm helped me sleep better by clearing my mind of all negative or stressful thoughts, but I wouldn't say it reduced my stress levels.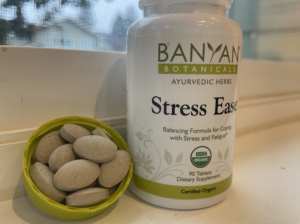 Although Natural Vitality Calm did not show the effectiveness I was looking for, the active ingredient in Banyan Botanicals Stress Ease, ashwagandha root, seemed promising for its helpfulness in better sleep and decreased stress. Banyan Botanicals Stress Ease should be taken once a day. 
I felt no change after taking the tablet. I wasn't relieved, relaxed, or calm. My levels of stress and anxiety remained the same. A letdown in itself but expected based on the results of the other supplements. 
In truth, while some part of me felt a snippet of relief, I wouldn't go to say that these supplements reduced my overall stress and anxiety after consuming them. Since most of these supplements did not provide the desired results, another stress-relieving option that I tried was the Headspace app. To be honest, this worked better for me, even though I was left with the bitter knowledge that many of the meditation options weren't included in the free option. Besides that, the cute animations and breathing exercises provided a relaxing experience. 
While I didn't find the 'miracle' stress reliever nor did I achieve 'zen,' I did find some relief from these supplements and apps that I hope can be helpful as we approach finals. Until then, I cheer for the prospect that someday, as the titles of the supplements suggest, I will find calm.