Live at the Fillmore: Beabaddoobee Concert Review
After waiting four years to finally see Beabaddoobee perform, I wasn't disappointed.
Beabaddoobee is a 21 year old British and Filipino singer-songwriter from London. She is known for alternative indie music that she has been making since 2018. I was over the moon at the prospect of seeing her perform in San Francisco at the Fillmore. I have been a huge fan of her music over the past four years, so finally being able to see her in person made my year.
The line for entrance to the concert wrapped around the building. They made sure that everyone in the venue had proof of vaccination or proof of a negative test within the last 48 hours, and everyone had to keep their mask on during the whole concert. Those precautions made the concert feel pretty safe.
The first of the three acts was Blackstarkid, a group of five young performers, each looking to be in their mid to early twenties. We missed the beginning of their set but we managed to watch the last three songs. The three main singers did a great job interacting with the crowd as people flowed in. The limited crowd wasn't as excited about their performance,  but Blackstarkid got the people there into their music. From the way that they performed together, I could see that they were all really close friends. The lively, upbeat music was easy for the audience to dance along to. Their songs had subtle high energy that brought life to their performance. Each of the band members had their own distinct style. This was clear from their clothing, with the male lead singer's red hat and the girl lead singer's puffy pink hair things.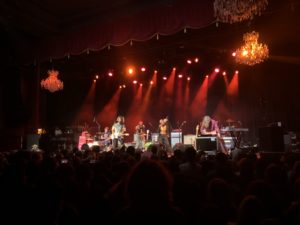 The second set to come out was Christian Leave. From the front of the audience's reaction, it was clear that they had come to see him. Leave's performance felt longer than the others, and with most of the crowd already in the venue, the audience got more into their performance.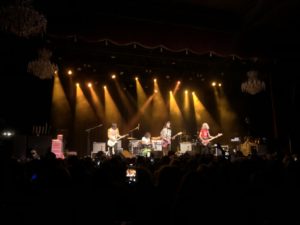 Several of the audience members in the front yelled, "You're so hot!" at him every once in a while in his performance. They played songs that ranged from lively to slower songs that the audience brought out their phone flashlights for. Their music felt very similar to artists like Hippocampus and the Wallows with their upbeat indie feel. While I did like the first group's sound, this music sounded more similar to the indie music that I have come to love.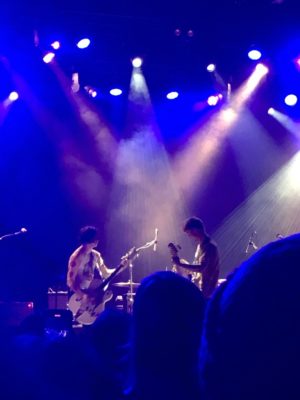 The last set was from Beabadoobee herself. I cannot convey how exciting it was to see her in person after watching her music videos and listening to her music over the last couple of years. Her band came out first and started to play as she began singing from offstage. She then made her entrance a minute after. The crowd had really come full force to welcome her as she came out. Her performance lasted somewhere around 45 minutes and then another 10 minutes for the encore. She played mostly songs from her album Fake it Flowers, but she also threw in some of her older songs like "She Plays Base." This tour was meant originally for this album because even with it being 2 years old, with COVID-19 she was unable to perform live. I loved this album when it first came out and even consider it one of my favorites. This album is her own take on the 90s grunge from her childhood. Seeing her perform it live was surreal. All of these songs have a heavy focus on their guitar solos that transfer perfectly to live music. While the music sounded fairly similar performed live, I felt that it was even better watching them performing it. Watching them perform the music after hearing it for years made the experience so much better. Her music is perfect for a live performance.
Most of these songs headed more towards indie grunge, but she also took some time to play her slower song "Tired". During this song, they turned off the colored lights and brought down a disco ball, elevating the feel of this song. This song had followed a song that was more meant for a mosh pit. With such a big tragedy that had happened recently at the Travis Scott concert, she made sure that the people in the front row were okay and asked everyone to take a couple of steps back to give the front row some space. This made me admire her more. This however was one of the only times that she had talked during the performance. She talked a little between the songs but I would have loved to hear a monolog or just some more talking between the songs so that we can really get a sense of her.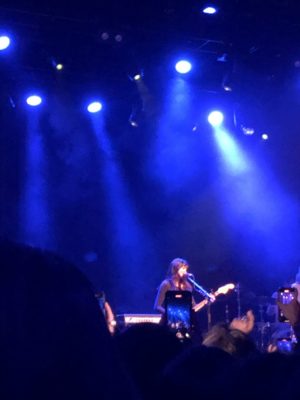 After the audience stood around for over 5 minutes chanting for an encore, she came back on with an acoustic guitar and played her song Coffee, a slower song. Then, the entire band came back on stage and played one of my personal favorites, "Cologne," a more lively song. Even after that I was a little disappointed to see the concert end and I would have liked a bit more closure.
The venue never felt overcrowded or stuffy. There was no seating, just standing room that was on a wooden floor surrounded by the merchandise sale, bar (for people with wristbands), and a coat check. This made it easy for people to get in and out of the crowd if they needed to. The music of the night was overall amazing, especially if you tend to like indie/alternative music. The one complaint that I had found other than the long entrance line would have to be the time in between each act. The break between the first two was somewhere around 15 minutes but the second was more around a half hour. In between the second act and Bea's performance, the crowd cheered at every little thing that happened, like the workers testing out instruments or someone holding up a picture of their cat.
While the concert was exceptional, my favorite part had to be right after. Not many people stayed after the concert ended, but those of us who did were in luck. Her tour bus was parked right in front of the entrance so when she left the venue, she passed by all of the people standing around there (for those that like theatre, it's like stage door). There weren't that many people there, so we were right along her path to the bus. I greatly regret not asking her for a picture even though no one else did and she was walking kind of fast. All the teenagers around us all said the same shy hi at her.  I did, however, get to say hi to her which she repeated back, as well as calling awkwardly to her as she left and I quote "I love you." Not my proudest moment.
This concert was well worth the $55 I spent.