Shang Chi and the Legend of the Ten Rings Reviews and Critiques (Part 2)
This article is spoiler-free! Read Part 1 of this article here: LINK
Shang Chi and the Legend of the Ten Rings dominates the Box Office as it has made a record-breaking $306 million globally (as of September 21) since its premiere on September 3.
Despite COVID concerns in theaters, the movie broke Labor Day weekend box office records. Shang-Chi, played by Simu Liu, made history as the first Asian protagonist in the Marvel Cinematic Universe.  
The movie cast includes successful and well-known Asian actors to represent its importance to Marvel and the Asian-American community. Tony Leung, a legendary Hong Kong actor, made his Hollywood debut as Wenwu, Shang-Chi's father; also known as the Mandarin. Awkwafina, Asian American actress, known for her roles in Ocean's Eight, Crazy Rich Asians, and Jumanji: Welcome to the Jungle plays Shang-Chi's best friend, Katy. Michelle Yeoh, a Malaysian actress, previously cast in famous Asian films including Crazy Rich Asians, Ip Man, and Crouching Tiger adds Shang Chi and the Legend of the Ten Rings to her list.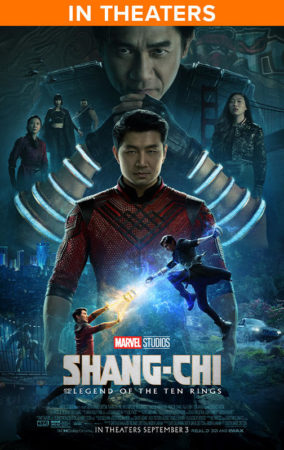 One Shang-Chi's main talents are his martial arts skills. Shang-Chi and the Legend of the Ten Rings incorporates tai chi and kung fu in its fight scenes, a new technique to Marvel movies.
"I love how they used a lot of tai chi in the fight scenes. They make it so artistic… they put it in slow motion to emphasize spirit and body connection in the art of kung fu. It is not about using brutal force, but more about having a balance and using your 'chi' in the movements. It was choreographed so well, I love that," Woodside parent Susanna Fung said.
Shang-Chi and the Legend of the Ten Rings is an important movie to the Asian-American community as a mostly-Asian cast takes to the stage of the Marvel Cinematic Universe. There was lots of Chinese representation in the movie with some Mandarin spoken lines and narration along with introducing Ancient Chinese mythical creatures.
"Going into the movie, I had no expectations," Fung said. "I didn't know much about Shang-Chi and I was super nervous because it was really unknown to me… After watching the movie I loved it. I love the plot, the casting, the artistic aspect of it, the main character, and the cultural representation. I think it was really important for the Chinese traditions and stories to be brought onto the silver screen."
The father-son conflict, Shang-Chi confronting his past, and the cultural representation made the storyline of Shang-Chi unique in comparison to other Marvel movies. 
"I thought it was interesting to portray the parent as the villain because usually parents are seen to support, but sometimes end up hurting you without meaning to," Sonnenburg added. "It was one of the better Marvel movies I've watched recently."
Even with high ratings, people found some things that could be fixed to make the movie better.
"I really liked the movie, but I do have some critiques." Woodside sophomore Tessa Niu said. "It kept flashing back to a scene from when [Shang-Chi] was younger… it was cute at first but then they kept showing the same scene on and on."
People also wanted to see more emphasis on Xialing, Shang-Chi's sister, and wished they had given her character more attention.
"I think there can be a better way to add to the sister's character; she was a powerful and important role, but they didn't pay that much attention to [her]," Fung said.
Although there were some critiques, the reaction was mostly positive and continues to make more money at the box office. 
"Anyone who watches the movie would not come out empty-handed," Fung said. "This is not a movie to watch only once."