Marvel's Shang-Chi Makes History (Part 1)
Simu Liu made history as the first Asian superhero in the Marvel Cinematic Universe when "Shang-Chi and the Legend of the Ten Rings" came to theaters on September 3.
Shang-Chi is Marvel's first Asian protagonist. The movie stars Canadian actor Simu Liu, along with other East-Asian actors and actresses including Akwafina, Benedict Wong, Michelle Yeoh, Fala Chen, Tony Leung Chiu-wai, and Meng'er Zhang.
The movie follows Shang-Chi, a Martial-arts master, along his journey through conflicts with his father and his past in the Ten Rings organization.
In 2018, Simu Liu jokingly tweeted "OK @Marvel, are we gonna talk or what #ShangChi. After auditioning and getting the role, he replied to his previous tweet, "Thanks for getting back to me".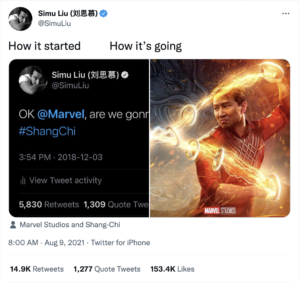 Not only is this movie a highlight of Simu Liu's career, but it also holds importance in the Asian and Asian-American community.

"I do think that having an Asian protagonist, and a largely Asian cast at that, does mean a lot for the Asian-American community," Jeanette Lok, Woodside High School Counselor, said. "Growing up, I rarely saw Asians represented in TV shows or movies, unless it was the fetishized Asian female or the nerdy Asian male. I think that a movie directed by and casting so many Asians, from such a large franchise as Marvel, really does elevate the Asian voice. Being Asian American is complicated… but the representation does matter, especially in the age of Stop Asian Hate." 

Tessa Niu, Woodside sophomore, also agrees this movie is important for the Asian community. 

"Shang-Chi can be the Asian hero that people look up to," Niu said.

Marvel fans notice a lack of promotion for "Shang-Chi", especially compared to other solo superhero Marvel films such as "Black Widow" and "Black Panther".

"I don't think that it was the most well-advertised compared to some of Marvel's biggest movies and other blockbusters," Libby Pfendt, Woodside sophomore, said. "I saw ads on YouTube and some posters, but overall not a ton [of advertising]."

The movie is not going to be released on Disney+ until after its 45-day cinematic run, so the only option to watch it now is in theaters.

"I think they should release it on Disney+ as well because of the Delta variant spreading, in case people don't want to go to theaters yet," Niu said.

There is some controversy regarding Awkwafina, who is also playing an important role in "Shang-Chi and the Legend of the Ten Rings". She stated that she refuses to audition for movies that have Asian characters using Asian accents but was shamed for having used a Black accent in the past. Some say her "blaccent" is not intentional because she grew up in Queens, while others are offended that she used the accent as her image and for fame.

"I have to agree with the people who are boycotting Awkwafina. I also grew up in Queens, and to hear folks say that growing up in Queens is the reason for her "blaccent" is appalling. I think it is unjust that she has prospered from the appropriation of Black culture," Ms. Lok said. "So while I agree with her that she shouldn't be playing a character that has an Asian accent, when she, in fact, doesn't have one, she similarly should not be stereotyping other cultures."

There has also been controversy regarding the comics the movie is based on. The comic was rooted in racism and stereotypes.  The villain was originally Fu Manchu, as the comics were based heavily around him. When Kung Fu fell out of fashion in the U.S., so did his character. The comics were discontinued in 1983, then relaunched including an actual personality for Shang-Chi. 

Despite some controversy, fans are excited as they await the release of "Shang-Chi and the Legend of the Ten Rings".

Pfendt said, "After watching trailers, my expectations are that the movie will feature the classic marvel charm of their films and a lovable main character that inspires people." 

Marvel Entertainment