Alex's 2020 Album Recommendations
2020 was an excellent year for music. However, not many people I've spoken to seem to agree! Sure, many popular artists held off on releasing albums (due to the pandemic), but that doesn't mean there weren't some amazing releases put out last year. Below are my top five albums of 2020.
"1000 Gecs and The Tree of Clues" – 100 Gecs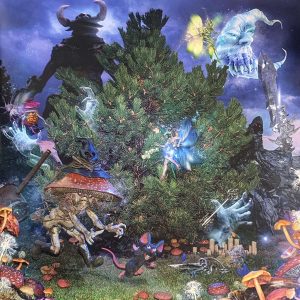 Reading the credits for "1000 Gecs and The Tree of Clues" – a remix album of 2019's "1000 Gecs" – feels like a joke. How could popular rock band Fall Out Boy appear on an album with lesser-known musicians like experimental rap group Injury Reserve, underground hardcore producer 99jakes, and photographer-turned-singer Hannah Diamond? The simple answer is that 100 Gecs has a lot of fans in a lot of places.
In 2019, bold pop duo 100 Gecs exploded in popularity, moving from relative obscurity to one of the most talked-about bands of the year. In a way, "1000 Gecs and The Tree of Clues" is a celebration of this acclaim. Artists who paved the way for 100 Gecs, like producer A. G. Cook and singer GFOTY, appear alongside contemporary acts like Dorian Electra and Charli XCX. The inclusion of a fan-made remix of "hand crushed by a mallet" is a nice touch, too, almost like an explicit "thank you" to fans (ironically, the artist credited with the remix is named "N0THANKY0U").
The diversity of artists on this album ensures that no two songs sound the same – everyone tasked with making a remix clearly gave it their all. This is the perfect album for not only regular fans of 100 Gecs but also people looking to see what all the hype is about and anyone else looking for a fun time.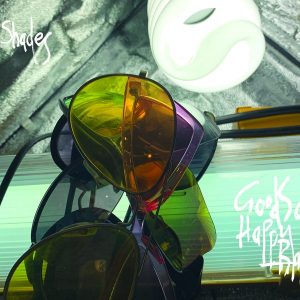 "Shades" – Good Sad Happy Bad
"Is this album optimistic or pessimistic?" is a question I'd been asking myself recently. "Shades" is a dreary album – some may call it "slacker rock." Backed by repetitive guitar riffs and hypnotic drumlines, vocalist Raisa Khan sings about climate change, letting people down, and a myriad of other depressing topics.
And yet, somehow, "Shades" doesn't feel depressing to me. It feels life-affirming. The title track deals with climate anxiety, conjuring images of snow in August, and sunny Christmases. It's scary to imagine, but the melodies, the tone of the guitar, and the quiet synthesized background all make it seem beautiful. Listening to "Shades" doesn't feel like confronting the ills of our modern world; it feels like making peace with them.
Other than that, there's not much more to say about "Shades." It's refreshingly simple, especially considering how much emotional depth it carries. Fans of chill indie rock should definitely give this record a spin.
"&&&&& (Remastered)" – Arca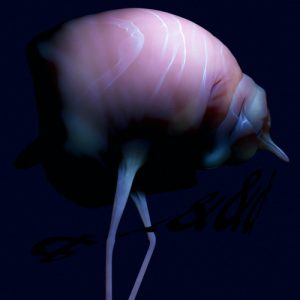 Is it cheating to put an album that (originally) came out in 2013 on this list? Probably, but so much has been improved here that it's hard not to include it.
In 2013, Arca's "&&&&&" mixtape served as a collection of rough song sketches, thrown together and hastily mastered. Shortly before the tape's release, Arca's unique brand of rap-influenced production caught the eye of musician Kanye West, who enlisted her to help produce his groundbreaking album "Yeezus." Thus, "&&&&&" can be considered Arca's breakout release.
It has added importance in that it also marks the end of an era for Arca. While she was mostly known for her experimental hip-hop releases at the time, "&&&&&" added a new focus on melody, foreshadowing Arca's later work with acclaimed singers Frank Ocean, Björk, and FKA Twigs.
In 2020, "&&&&&" was uploaded to streaming services with a fresh coat of paint. Songs that were previously mashed together now have introductions; songs that were mastered to be loud and claustrophobic now have a little more space to breathe. The result is a project that no longer feels like just a collection of songs capturing a unique moment in one artist's career but rather its own living world. The original cover art for "&&&&&" illustrates this feeling best. An abstract creature of unknown size lumbers through seemingly infinite space. Its fleshy body looks the way the music sounds, alive yet unnerving and mysterious.
Arca's music isn't for everyone, but if you're interested in taking a short trip through one artist's unique, uncompromising vision, this is the album for you.
"Plucking a Cherry From The Void" – Cecile Believe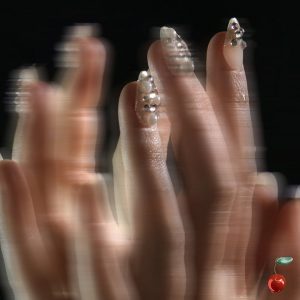 I'm not a person who believes in natural talent, but Cecile Believe is someone who could make me reconsider. Without talent, almost every song on "Plucking a Cherry From The Void" would be indistinguishable from other chill, left-of-center pop acts. There's the same snappy drums, the same faux-antique synthesizers, the same lyrics about past loves. But there's some indefinable quality about these tracks that elevates them beyond other material in the same style. Somehow, with the disassembled parts of "ambient pop," Cecile Believe has crafted a world entirely her own.
When "Times," the mixtape's first track, fades in, one gets the sense they're being pulled through a portal. From the very first song, it's clear that this is the kind of music someone can get lost in, imagining themselves as a character in a book or a movie. The next song, "Stay Open," creates a nighttime vibe by conjuring up images of parking lots bathed in darkness and roads lit by street lamps. "Drop," the mixtape's most experimental song, provides a feverish change of pace before "Crickets," a reverb-heavy slow burn, mellows everything out. Then comes "Living My Life Over (Extreme Vocal Edit)," which brings some surprising (but still fitting) breakbeat drums to the table, followed by the RnB-adjacent "Pjluk." "B—- Bites Dog," a definite standout, sounds like an evil Britney Spears B-side. Finally, there's the tape's instrumental closer, "Exit Flatland." As the title suggests, it feels like an exit from the visceral dream Cecile has conjured.
Taken together, "Plucking a Cherry From The Void" is a fascinating collection of tightly-written pop songs, heightened by a palpable sense of emotion. It's the perfect soundtrack to make even the most dreary, quarantined nights alone seem cinematic.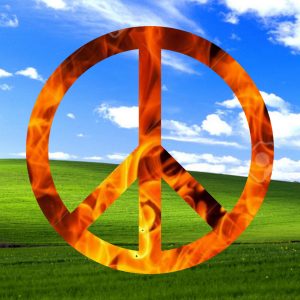 "Peaceful as Hell" – Black Dresses
There's no album that fits the "noise pop" descriptor better than Black Dresses' 2020 album "Peaceful as Hell." Every song is a cluster of flying synth melodies, enveloped by overpowered guitars and grounded by ear-splitting drums that threaten to tear the whole thing apart. And yet, amidst all this chaos are some surprisingly catchy, resonant pop songs. Beneath this album's prickly exterior is a thoughtful meditation on interpersonal relationships in the modern era.
The standout track "PLEASE BE NICE" illustrates this concept perfectly. What begins as a quiet rambling about the freedom of the internet gives way to a lumbering chorus asking the listener to "please be nice" to strangers online. Despite the cheesy message, this song is equal parts catchy and comforting. The same goes for the following track, "CREEP U," which consists of three minutes of chill indie rock followed by a two-minute outro that chops and distorts everything beyond recognition. It isn't just noise for the sake of noise, meant to alienate listeners or throw off non-fans; it's catharsis.
The album's final track, "666," is one of the few slow songs on "Peaceful as Hell." The band's two singers trade verses about being stuck in hell, unable to reach the outside world, while a simple synth melody plods along in the background. Despite the song's depressing subject matter, the aura of warmth that pervades the entire album is still present. Eventually, the two singers conclude that all they need to maintain their sanity is each other. Together, they can stay safe and imagine a better world. What a perfect message for 2020.