Hardships in Quarantine
Quarantine is difficult for everyone. For me, the hardest part of quarantine has been losing my grandfather and not being able to say goodbye.
My grandfather had been battling Mycosis Fungoides, a type of T-cell lymphoma cancer, for 18 years. He suffered from painful tumorous lesions and rashes all over his body. He did chemotherapy, radiation, and even two blood transfusions. He went into remission a few times, but it never lasted. Throughout all this, he stayed strong and kept fighting.
Last year, the cancer spread inside his body, attacking his lungs and other organs. He had to have oxygen through a nasal cannula and was in and out of the hospital more frequently than before. In June of 2019, he was given six months to live, but he defied those odds. At the end of April, his heart started having problems. This was alarming, because throughout the entirety of him battling cancer, his heart was always strong. He went to the hospital and was released, only to come back in the next couple of days for the same issue. The second time he went to the hospital he insisted on leaving, even if it was against medical advice, because he wanted to be at home. He was released on May 11 and passed away that night in his home surrounded by love.
I visited my grandparents at least once a month for my entire life, except when my grandfather wasn't allowed to be around people because of his compromised immune system. Amidst COVID-19 and the shelter and place orders, I did not visit them for the safety of both them and me. However, I wish that I would have been able to see him to at least say goodbye and tell him that I love him.
Not only did shelter in place inhibit me from saying goodbye, but it is also hindering the whole family from being able to follow his wishes. As a former marine, my grandfather wished to have a service in the church with the flag on the casket, and then he wished to be cremated. However, because of all the restrictions, we cannot have a service in the church, nor could we even get a priest to bless his body. When restrictions are lifted, we will have a service in the church, a priest will bless his ashes, and we will be able to celebrate my grandfather and his wonderful life. My grandfather deserves to have the services he wanted, but unfortunately, in our current situation, that is not possible.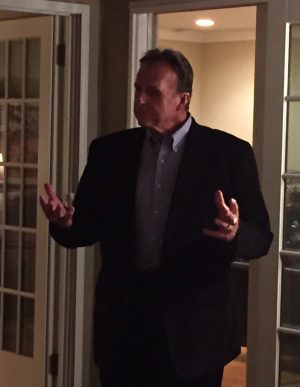 My grandfather's last wishes were for the family to take care of my grandmother, who had cared for and supported him for the 18 years he fought cancer. My grandparents have been together since high school and were married in 1964. My grandfather was a romantic man, and he loved my grandmother unconditionally. Despite the shelter in place protocols, it was important for the family to be there for each other, especially my grandmother. We got together the day after his passing and shared our happy and positive memories of him. It is important that we all support each other during these unprecedented times, even if that means getting together to talk six feet apart.
After his passing, I have tried to remember that he is no longer suffering and that he is in a better place. My grandfather was a beautiful man who was loved by many. It is hard to think about how I will not see him at any Thanksgiving dinners or Christmas festivities in the future. Losing a loved one is never easy, but quarantine has made it even more difficult. The hardest part is that once my family and I come to terms with his passing, we will have to reopen the wounds when we can finally have a service and celebrate him.
I wish I would have been able to say goodbye, because it would have helped me feel more at peace with his passing. Since I did not get to, I have to remind myself of all the happy memories I shared with him, and I have to remind myself that the last thing I said to him when I saw him a few months ago was "I love you."