Review: Season 3 of "On My Block"
Major season 1, 2, and 3 spoilers ahead.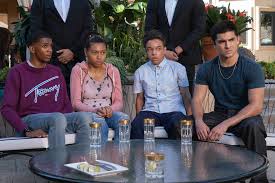 After keeping fans waiting for almost a year, Netflix's popular drama series "On My Block" finally came out with a third season this April.
To kick off the new season, the lead characters Jamal, Monse, Ruby, and Caesar are brought to the home of the Santos gang leader, Cuchillo, a determined woman. Cuchillo (whose name means knife in Spanish) tasks the teens with finding Lil Ricky, who was thought to be dead. Cuchillo believes that Lil Ricky faked his death after hiding the RollerWorld money, which Jamal found in season two. Each character has their own little moment of grief and problems: Monse's mom mysteriously dies, Ruby's parents go broke, Jamal has a stalker, and Caesar's brother goes missing. Overall, there's much more happening in the new, action-packed season compared to the others.
Along with the same characters from previous seasons, new characters are also introduced. The first new character that we meet is Cuchillo, the Santos gang leader. Her strong will and selfishness leave no sympathy for the young characters, and she forces them into helping her find Lil Ricky in exchange for the RollerWorld money. The next character that shows up bamboozles everyone: people may have assumed that the man to show up in front of Caesar's home was Lil Ricky, but he turned out to be Caesar's father instead. He isn't given much of a background at first, but it is soon revealed that he came for his gang affiliations.
The last new character that we meet is Kendra, who creepily stalks Jamal in striking green outfits. This alarms Jamal, thinking that she may be a spy for the Prophets gang, but it turns out that she just has a crush on Jamal. Jamal would have known this if it weren't for Jasmine; in the previous seasons, she seemed to only annoy the friend group as a somewhat minor character, but in the third season, Jasmine now proves to be an essential part of the group. That being said, the new character additions also contribute to more plot twists and action, making this season more enjoyable and unpredictable than the last two.
The season finale has everyone questioning everything. In season one, we were left in shock when Ruby and Olivia were shot by Latrell, a Prophet. At the beginning of season two, we learn Olivia dies from the gunshot wound, and Ruby is left scarred for life both physically and emotionally. Fast forward to the end of season two, the group is kidnapped after they find the RollerWorld money; at the end of season three, we're left questioning the friend group and what happens, as a peek two years into the future shows that the group is no longer together. The third season provides much more action and drama than the previous seasons, and the main characters face major turntables in the future. 
This new season has proven to be a shocker with more variety in plot and action. The teen-oriented show is great to binge watch while in quarantine. There are 28 episodes in total – ten in the first season, ten in the second, and eight in the third – and each episode ranges from 23-36 minutes long, making it perfect to watch a couple episodes a day. If you're a fan of drama looking for a new show that doesn't have many seasons or episodes, this would be the perfect show for you.