Beyoncé's "Homecoming": The Beauty of Black Culture, Education, and Motherhood
Beyoncé never fails to disappoint, and "Homecoming" is no exception.
Taila Lee, Co-Editor-in-Chief, Health/Lifestyle/Tech Editor
April 24, 2019
Two hours and 17 minutes of Beyoncé. What more could the world want?
Netflix released Homecoming: A film by Beyoncé on April 17, 2019. This documentary detailed renowned pop singer Beyoncé Knowles-Carter's phenomenal concert at the Coachella Valley Arts and Music Festival in April 2018. Reported as a deal worth about $60 million, Homecoming is one of Beyoncé's three scheduled projects with Netflix.
With about 100 backup dancers personally picked by Beyoncé, a pyramid for an iconic stage, six glamorous costume changes, synchronized choreography, and surprise guest performances by Jay-Z, Destiny's Child, and Solange, it's no wonder that fans dubbed Coachella "Beychella."
"I personally selected each dancer, every light, the material on the steps, the height of the pyramid, the shape of the pyramid, every patch was hand sewn," Beyoncé explained in her documentary. "Every tiny detail had an intention."
"
I wanted every person that had ever been dismissed because of the way they look to feel like they were on that stage."
— Beyoncé Knowles-Carter
Along with expressing the exceptional level of detail that went into the performance, the documentary Homecoming embraced the beauty of black culture and emphasized the importance of preserving Historically Black Colleges and Universities (HBCU). Beyoncé is the first black woman to headline Coachella.
"So many people who are culturally aware and intellectually sound are graduates of historically black colleges and universities, including my father," Beyoncé said. "There is something incredibly important about the HBCU experience that must be celebrated and protected."
In addition to highlighting the power of education and black culture, Beyoncé directly remarked on her personal goals for Homecoming.
"I wanted every person that had ever been dismissed because of the way they look to feel like they were on that stage," Beyoncé expressed.
And she succeeded. With eight grueling months of preparation and daily eight-to-12-hour-long rehearsals, it's no surprise why every aspect of her performance was polished.
"After every run-through, there's a meeting with… at least 50 people," Beyoncé explained. "And it doesn't matter how many months we've [rehearsed or] how many times we've done it. There are notes everytime, because there's always something that we can improve upon."
The zeal and dedication from Beyoncé and her team to create a flawless performance are unquestionable. Dominican-American dancer Amandy Fernández, who previously starred in Beyoncé's "Run The World" music video, opened up about how it was "life-changing" to have a role at Beychella.
"It was a blessing to be part of a show like that," Fernández expressed. "I never thought that I would be dancing for Beyoncé, but… my story is proof that if you stay motivated with a clear vision of what you want to accomplish, anything is achievable."
It's clear Beyoncé followed a similar ideology.
"It's my first time coming home, on the stage, after giving birth," Beyoncé stated, who gave birth to twins Rumi and Sir Carter in June 2017. "I'm creating my own homecoming."
In order to get back in shape for Coachella, her strict diet limited bread, carbs, sugar, dairy, meat, fish, and alcohol.
"It's hard… there were days that I thought… I'd never be the same," Beyoncé expressed. "I definitely pushed myself further than I knew I could… I feel like I'm a new woman, in a new chapter of my life… it's just so beautiful that children do that to you."
Homecoming touched on how Beyoncé balanced rehearsals with her family life. The portrayal of her dedication as both a mother and a performer is one of the aspects that made Homecoming so moving, so powerful.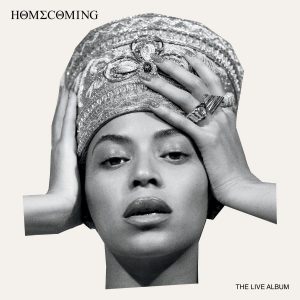 "My mind wanted to be with my children," Beyoncé said. "What people don't see is the sacrifice. I would dance, and go off the trailer, and breastfeed the babies, and the days I could, I would bring the children."
Balancing preparations for a legendary performance with motherhood would undoubtedly be a challenge for anyone, but Homecoming portrayed how determined Beyoncé was to return to performing.
"She's such a hard worker," Fernández said. "The majority of the time, she has so much going on, worrying about the music, the lights, and she's also the artist—but she is also a person that is very humble and accessible."
Seamlessly blended in with candid shots of ecstatic audience members and heartwarming behind-the-scenes rehearsals, Homecoming beautifully displayed how her unbelievable talent, endurance, clear, creative vision, and perseverance paid off last year at Coachella.
"I studied my history," Beyoncé said. "I studied my past and I put every mistake, all of my triumphs, my 22-year career into my two-hour homecoming performance."