Women in a Male-Dominated Society
Women's equality is an important social justice issue that must be addressed.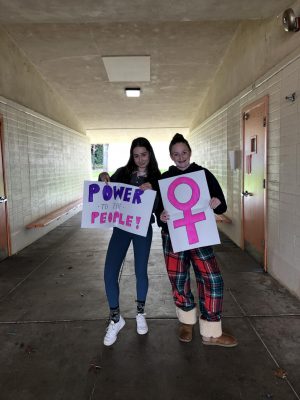 The definition of stereotypes is "a widely held but fixed and oversimplified image or the idea of a particular type of person or thing." Stereotyping women is something that women have had to face their whole lives, but women are fighting back to accomplish their goals in a male-dominated society.
"When I first started working as a lawyer, I felt like I had to be really, really top notch and well prepared, not act like a secretary when would people treat me like a secretary, which is not a bad thing, but I wasn't a secretary, I was a lawyer," Linda Gemello, a superior court judge in San Mateo County and an appellate justice in the California state court of appeal before she retired, stated.
"
I was such a piss-*ss stubborn woman. I think I fought right through past the stereotypes."
— Linda Gemello
This was in 1996, and there were not very many women who were judges, so she had to really fight to earn her place in the court. Gemello, like many women in a male-dominated profession, has had to push and fight through many challenges that she was faced with. Because she was facing these challenges in the 20th century, she experienced some things that other women judges might not experience today.
"There weren't very many women when I came to the court, so there wasn't much collegiality," Gemello expressed. "There were always good people, men who became good friends, [but] because there weren't many women it was kind of lonely when I first became a judge, I felt like I was all alone out there."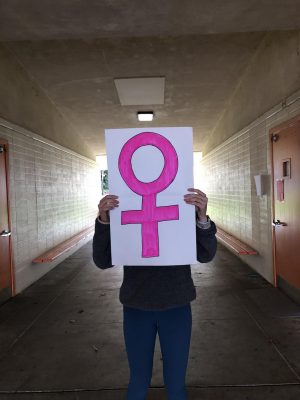 In the 21st century we have made many advancements, and women are still faced with challenges and held to many stereotypes, but women are becoming stronger and they are learning how to break the stereotypes. Grace Duncanson, a Freshman at Sacred Heart, is a part of the fight for women's equality.
"If I see some injustice or gender discrimination I can't just sit back I have to do something and fight back and I think that I am stronger and more aware of what's going on around me and I can notice discrimination and stereotypes because of who I am," Duncanson said.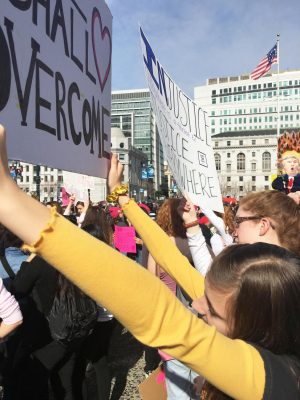 Duncanson is fighting for women to be equal in not just our country but our world. She is a believer in feminism, she has attended many marches and protests, and she plans to continue being a part of the fight for equality.
"I also think it is pretty awesome [that] as women we have this like community at all of the protests," Duncanson continued. "I feel like it is sort of special because we've all gone through these shared experiences of discrimination, and I felt that I have a nice support system."
Gender discrimination and inequality do not just occur in the workplace but can occur anywhere, and women will be faced with these challenges throughout their life, but it is up to people to stand up and fight.
"Our country claims to be so progressive but in reality, people are still not accepting other people for who they are and people are boxing other people into stereotypes," Noah Hall, a freshman at Woodside High School who is interested in social justice, stated.
Some people in our country do not see the problem with how people treat women and how in the professional environment they are sometimes taken for granted. Women are strong, and we are willing to fight until we earn equality and until there are no more stereotypes not just in the workplace but in everyday life.
"I was such a piss-*ss stubborn woman," Gemello concluded. "I think I fought right through past the stereotypes."