People in the Bay Area have been affected negatively by COVID-19 throughout this pandemic ever since March, and their daily lives continue to adapt to fit pandemic guidelines.
Janet Suazo, a 28-year-old Supervisor and Merchandise Specialist at Party City, has been one of the many citizens affected by COVID-19. She works at Party City, organizing merchandise and helping customers.
"We would be really busy on Saturdays," Suazo said. "This place has changed dramatically — we have different protocols."
Though she had to stop working for two months, Suazo works very hard to ensure that her business and job succeed, especially after her store had to get new measures of safety.
"Sales have definitely gone down about 80 percent or so," Suazo said. "Once the store opened, [we] started with curbside pickup, where customers would order online and just pick up their order through their car… We wear masks now at all times, and we sanitize all the registers."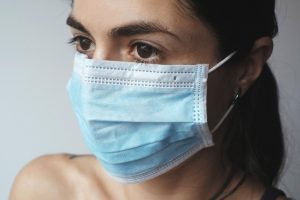 Suazo's job and daily life have been impacted by the pandemic. However, there are other people in the community that have been affected by COVID as well. Nancy Vazquez, a 44-year-old Unit Assistant at Kaiser Permanente, has seen the impacts of the virus. She works in the Labor in Delivery department.
"In my department, there have only been a couple of patients with COVID-19," Vazquez said. "After summer, we started receiving a lot more patients."
As a hospital secretary for her department, Vasquez has been heavily affected by the virus.
"My job has definitely changed now. I sit in a glass-covered desk, I wear two masks, I have to clean my desk for about every hour, and I must apply hand sanitizer," Vasquez said. "My job has affected my personal life because it has made it very stressful… When I eat, there's a process I have to go through. Hospital workers also check my temperature before going in, and I must bring my ID badge every day to be allowed to enter the hospital."
The pandemic has also caused stress to both workers and patients, which influences employees' mental and emotional health.
"Besides the patients being affected, employees call in because they're stressed or overwhelmed with the virus mentally," Vazquez said. "My job has personally been difficult to manage because I have to explain to the patients that there is only one person who can visit them."
Vasquez's and many others' lives and jobs have been affected by COVID-19, including teachers in our community. Kelly Dolan, a life skills and history teacher at Woodside High School, is one of the many teachers who have been impacted by the pandemic.
"There are stressors that we're dealing with now, which we didn't use to have to deal with," Dolan said. "There were also stressors that are no longer quite so significant."
Dolan used to work at the Woodside campus, so now there are many differences regarding what he does as a teacher.
"There are good aspects, and there are bad aspects," Dolan said. "I actually have less stress now than I would have normally because I can work from home, which means I am more comfortable overall."
Dolan has also spent his time adapting to online learning because it's a different experience for him and many teachers.
"There's [an] effort that we're all currently engaged in to learn how to use the different tools or available tools," Dolan explained.