Unvaccinated People Can't Come Into the U.S.
Come November, only fully vaccinated individuals may enter the United States. Travel bans from various countries become a problem for unvaccinated travelers, especially the ones who are going to the U.S. to get vaccinated. 
This new policy will apply to anyone who is not a U.S. citizen, including citizens from Japan, Singapore, Mexico, and other countries whose citizens were able to fly to the U.S. before. Throughout the entire pandemic, policies from other countries had widespread requirements when it came to restricting travelers, ranging from negative tests to 14-day quarantines. Now that vaccines are easier to get, the U.S. lifted its original travel ban on vaccinated travelers and created a new one. Vaccinations won't affect who can enter the country until November.
"[Getting vaccinated is] not only about yourself but also about protecting people around you," Gabbie Gerrodette, Woodside sophomore, said. "Vaccines are great and it's important we get the necessary vaccines so we can slow the spread of diseases and keep people safe."
Unvaccinated people won't be able to enter the U.S., but there is still no vaccination mandate for citizens within the U.S.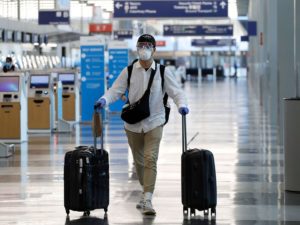 "I don't think we can control people coming in before we get it together [ourselves]," Malin Petersson, Woodside sophomore, said. "I think that's hypocritical, it's asking for something that we can't even commit to."
This policy will not permit unvaccinated U.S. citizens to come back into the U.S. Exceptions for unvaccinated citizens, such as for medical reasons or for children under the age of 12 are still being decided.
"There's nothing an individual can do to combat [medical problems]… if you're a kid and you can't get a vaccine it's not your fault," Petersson said. "These are extreme cases that I think these laws should not apply to."
It is still being decided which vaccines will be accepted because some are not FDA approved, even though they might be the only ones available in their country.
"Right now, there aren't enough vaccines in Taiwan. BNT (Pfizer), Moderna, AZ, Gaoduan (Taiwan vaccine) are the vaccines available, and the Taiwanese vaccine is not approved by [the World Health Organization]," Sandy Chen, a U.S. citizen currently in Taiwan, said. "People with Gaoduan cannot leave the country of travel because it is not approved. It's mostly the younger citizens getting Gaoduan."
She thinks that it is easier to get vaccinated in the U.S. compared to Taiwan.
"If it is required for entry I will get [the vaccine] in Taiwan, but I would rather get it in the US because it is more convenient and without an appointment," Chen said.
The policy is a problem for people who are coming into the US to get vaccinated because there are fewer vaccines in some other countries and harder to get. Before, many people from out of the country would come into the US and go to vaccination sites that didn't require any extra information/identification to get vaccinated.
"I think it's safer for the people who live here if we don't let in people who aren't vaccinated," Gerrodette said. "At the same time, I think it's unfair that they can't come here and get vaccinated."
"I think everyone who can get vaccinated should get vaccinated," Libby Pfendt, Woodside sophomore, said.