President Trump Accuses Leading Democratic Candidate of Corruption
In the light of allegations that President Donald J. Trump abused his power in Ukraine, President Trump has raised accusations against Democratic presidential candidate Joe Biden, claiming Biden used his influence as former vice president to help his son gain a position at the Ukrainian gas company Burisma.
The press has repeatedly tried to interview President Trump on the nature of his own relations with Ukraine, yet President Trump has insisted on further investigation of Biden.
When questioned about a phone call he made with Ukraine, President Trump instead claimed, "What Biden did for his son [is] something they should be looking at."
Democrats have refuted these accusations, but Woodside junior Gavin Feri sees no harm in proceeding with an investigation of Biden.
"Why would [Democrats] be making such a big deal out of it?" wondered Feri. "It's just an investigation." 
Some Democrats argue that President Trump's accusations are an attempt to not only deflect attention from himself but also disturb Biden's presidential campaign.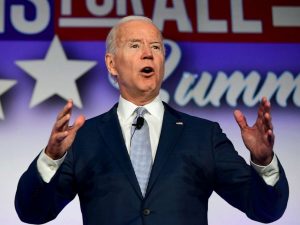 "I'm not going anywhere," said Biden in a response to Trump's claims. "You are not going to destroy me, and you're not going to destroy my family."
Still, the Democratic Party does not uniformly support Biden; some call for investigations of both President Trump and Biden.
"I don't know if [Biden] did or didn't, but he does seem shady," commented Cassidy Creighton, a Woodside Democrat. "[Trump] calling Ukraine is probably fair for a president, but him threatening them [is]… definitely an impeachable offense."
Woodside Democrat Joseph Cigarollo agrees.
"Trump needs to focus on the people," stated Cigarollo. "But, I think there should be an investigation."