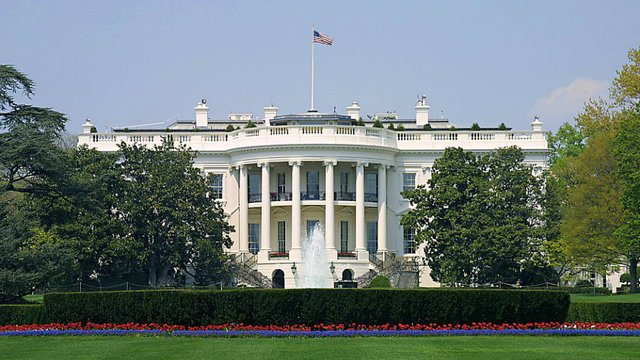 Oval Office or Bust: Nine Democratic Candidates Declare a Presidential Campaign
The wide variety of Democratic candidates foreshadow a crowded field for the 2020 primaries.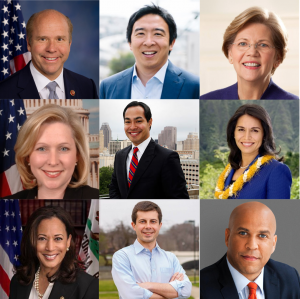 Nine Democratic candidates have publicly declared a 2020 presidential campaign, 149 have filed to run with the Federal Election Commission, and more are expected to enter.
Before the November 3 general elections, the primary elections will take place between February and June of 2020. In July of the same year, the Democratic National Convention will choose a candidate to represent the party, and the number of Democratic candidates running may make the decision difficult. Meanwhile, the Republican field is not expected to be as crowded.
"In general, the party in power in the White House figures out that 'this is what people like,' so the field tends to be narrower, often usually just the incumbent president, but sometimes a couple of other challengers," Woodside history, government, and economics teacher Michelle Buckowski described. "You always see the other party do a huge spray of candidates, like 'we're going to try as many different people as possible and see what catches.'"
Woodside history, government, economics, and Advancement Via Individual Determination (AVID) teacher Jesse Manzo cites a number of benefits of having a variety of Democratic candidates.
"The more candidates we have, the more different ideas we'll have out there," Manzo stated. "Back in 2016, one of the criticisms of Bernie Sanders was that he was taking away votes from Hillary, but he actually persuaded Hillary to be a little bit more left-leaning with her policies."
Although Woodside sophomore Stephanie Alfadel feels that the number of candidates may lead to major conflicts during the Democratic primaries, she, like Manzo, sees the potential positives.
"The number of candidates within the Democratic Party is going to cause a lot of conflict between voters trying to figure out who's a stronger candidate to vote for and who could beat Donald Trump in 2020 if he decides to run," Alfadel noted. "But, I also think in some ways that it's giving a little bit of hope that so many people are empowered to run for this position and better our country. It's giving a lot of options to choose from."
Still, some fear for what they call the "2016 effect," in which disappointed Bernie Sanders supporters opted to vote for anyone but Hillary Clinton, leading to splintering within the Democratic Party and weakening President Donald Trump's competition.
"The splintering is going to get worse," Buckowski predicted. "I believe that President Trump will win again in 2020, [especially] if there are too many candidates, too many voices, and the primary goes on too long. The folks who like Trump aren't going anywhere."
"
We're in a time in politics right now where you can't really predict what's going to happen."
— Jesse Manzo
President Trump is expected to seek reelection in 2020 and has been unofficially endorsed by the Republican National Committee. Despite Buckowski's prediction, a number of prominent Democratic candidates have stepped forward to challenge the current president.
John Delaney, a former Maryland congressman and businessman, was the first Democrat to announce a 2020 presidential campaign back in July of 2017. He has emphasized his bipartisan take on controversial issues but, in spite of his lengthy campaign, has not received as much news coverage as more current political figures.
Entrepreneur and former tech executive Andrew Yang declared his presidential campaign in November of 2017. He holds an economics degree from Brown University and a law degree from Columbia University but has no prior political experience.
If elected, Yang hopes to establish a universal basic income of $1000 a month, but some criticize him as merely "a longshot 2020 presidential hopeful."
On December 31, 2018, Massachusetts Senator and former Harvard professor Elizabeth Warren formed an "exploratory committee" that would test the waters of a bid for president. One of her primary goals is aiding the shrinking middle class; she also gained publicity following a 2018 dispute in which she proved her Native American ancestry through a DNA test in response to a challenge from President Trump.
"If I had to pick someone who's in front, just based on name alone, I would say Elizabeth Warren because she seems to have the most experience," Manzo decided.
On the contrary, Buckowski feels that Warren's name recognition will be a detriment to her campaign.
"She has been a name that's been around for longer, and there's a current fatigue level with the expected," Buckowski explained.
Tulsi Gabbard, a congresswoman from Hawaii and a veteran of the Army National Guard, announced her campaign in January of 2019. She supported Bernie Sanders during the 2016 primaries and, although accused of homophobic comments in the past, has publicly apologized.
Tulsi Gabbard Campaign
"Liberals think she's too conservative, conservatives think she's too liberal, and just about everyone thinks her coziness with [Syrian president] Bashar al-Assad is disturbing," Republican National Committee spokesman Michael Ahrens remarked.
The same month, Julián Castro, the Secretary of Housing and Urban Development under Obama and the former mayor of San Antonio, announced a campaign. He opted not to challenge Ted Cruz for a Senate position in the 2018 midterms and bases his platform on Medicare for all and immigration reform.
"One of the reasons why Hillary didn't get elected was because she kept tying her experience to the Obama experience, which is not something that resonates with people in the Midwest," Manzo reflected. "So, there is concern that if [Castro] ties himself too much to the Obama administration, he's probably going to have the same fate as Hillary."
Later in January, Kirsten Gillibrand, a New York senator and a former congresswoman from a conservative House district, formed an exploratory committee. While known for endorsing more conservative policies in the past, her views have shifted to the left and she is a current advocate for women's equality and opportunity.
California Senator and former Attorney General of California, Kamala Harris, declared a campaign on January 21. She gained support following her unrelenting questioning of Supreme Court Justice Brett Kavanaugh but also has less popular past policies.
"Out of the candidates, I have lots of pros and cons with all of them, but after weighing what I value as an American and what I value in a politician or president, I would have to lean towards someone like Kamala Harris," Alfadel stated. "But, I think my biggest problems with her are her policies on the prison system. I think it's a horrible thing that she's done, and I feel like that's my biggest thing pushing me back from her."
Similarly, Manzo sees Harris's work with the prison system—including contradictory stances on the death penalty— as a controversial topic among Democrats but a platform that might appeal to more conservative voters.
"She's seen as a favorite because she's been someone who's tough on crime, which is not necessarily something that Democrats are all for, but given her past experience as Attorney General, our main lawyer for California, she's seen as a rising star for the Democratic side," Manzo explained.
Still, Buckowski believes that candidates from California often face prejudices.
"When Californians run for national office, they tend to get 'oh, you don't know real life. California is so easy,'" Buckowski noted. "There's just this perception that [Californians are] soft and that our problems aren't real problems. Any time someone's run from California, that's been the narrative."
A lesser-known candidate, Pete Buttigieg, started an exploratory committee on January 23. Buttigieg is the mayor of South Bend, Indiana and a veteran of the war in Afghanistan as well as the only openly gay candidate in the race. He puts emphasis on climate and economic opportunity but, due to his lack of political experience, is considered a long shot like Yang.
Cory Booker, a New Jersey senator, was the ninth Democratic candidate to declare his campaign and, with a nod to his heritage, made the announcement on the first day of Black History Month. Booker hopes to reform the criminal justice system and has often been compared to Obama, although many describe him as more extroverted.
Other potential Democratic candidates have yet to enter the race.
"There's talk that [former vice president] Joe Biden and [Vermont senator and 2016 challenger to Hillary Clinton] Bernie Sanders may run," Angelina Gaddi, a Woodside senior, commented. "But, neither have confirmed anything yet, so we should look out to see."
Former Colorado governor and Denver mayor John Hickenlooper is also a likely Democratic candidate, alongside Montana governor and former state attorney general Steve Bullock.
Aside from political experience and background, another factor that may determine a candidate's support is the challenge they could pose to President Trump.
"One of the things I think Trump does so well is he's able to simplify politics," Manzo acknowledged. "By that, I mean he's turned his campaign into a bunch of slogans. You have the 'Make America Great Again,' the 'Build the Wall,' and at some point these just become synonymous with Trump and his campaign."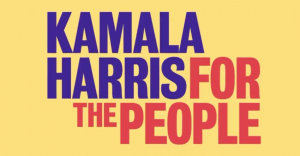 Alfadel believes that the best candidate to compete against President Trump would take a similar angle.
"Going with the same sort of tactic, but using a more inviting and more personal slogan, could counter Trump," Alfadel described. "Maybe something that has to do more with the people. [Harris] does have something with 'the people' in her slogan."
Overall, Manzo feels that the 2020 elections will garner widespread attention and a high turnout.
"We're in a time in politics right now where you can't really predict what's going to happen," Manzo added. "I think that's what makes it fascinating, so for all the young people, if they haven't taken an interest in it they might take an interest in it now… If anything, I think it's going to be a huge turnout because for our midterm elections, we actually had a bigger turnout this year than ever before, so I think it's just going to be bigger for the presidential candidates in 2020."
With a record number of women and people of color running in the primaries, the elections are also shaping up to be the most diverse in history.
"We're in a progressive time with the Black Lives Matter and Me Too movement," Gaddi concluded. "People want to see more diversity and representation in places of power."
Update: Elizabeth Warren transitioned from an exploratory committee to an official campaign on February 9, 2019. Senator Amy Klobuchar of Minnesota officially announced her candidacy on February 10, 2019.