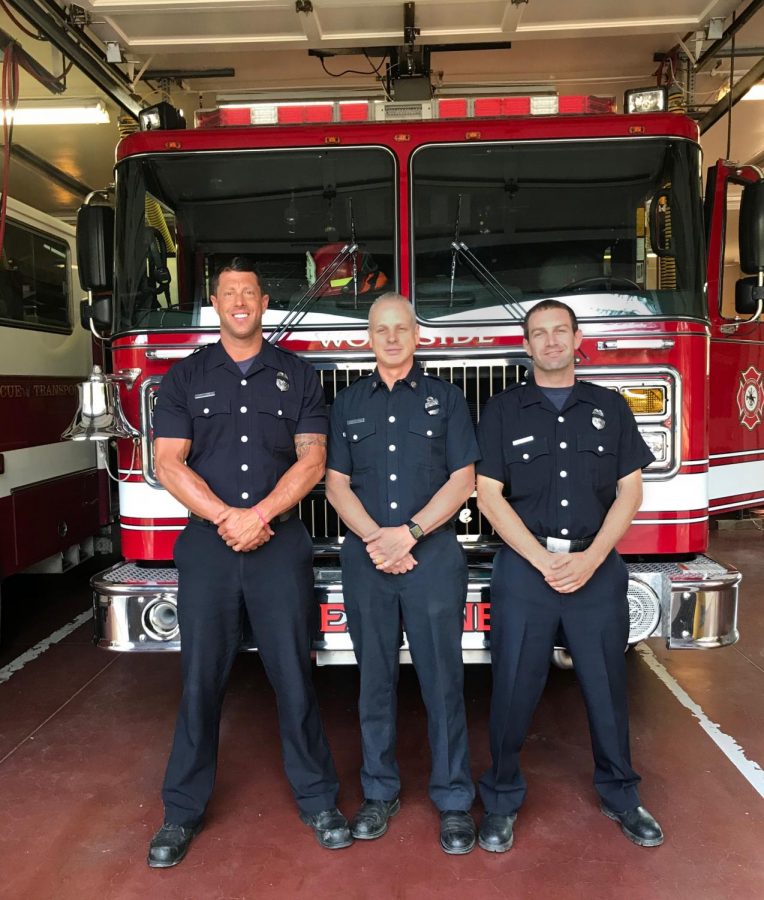 Woodside Firefighters Face Unrelenting California Flames
During one distressing week in July more than 1,000 wildfires sparked in California, 15 of which are still blazing today. The Carr, Mendocino Complex, and Donnell fires are the biggest flames sweeping through Central California at this time, all of which are above 50% contained.
So far, the Mendocino Complex fire has covered 450,985 acres and prompted mandatory evacuation in three countries, making it the largest wildfire in California history. Jared Abbott, a Woodside firefighter of six years, recently returned from 23 days of working as a field reporter at the scene of the fire.
"I went as a single resource, which is an overhead position… basically, it's a scout, so what you're doing everyday is mapping the fire perimeter so they can get good containment numbers like the percentages you see on the news," Abbott described.
According to the California Department of Forestry and Fire Protection (Cal Fire), the Mendocino Complex has swept through over 250 structures, 150 of which were residences, caused two injuries, and led the death of Utah firefighter Matthew Burchett. Currently, the fire is 83% contained.
"They'll use my tracks from my cell phone [via GPS], and that will get imported to a computer program called GIS," Abbott explained. "A lot of the leaders of the fire, the incident commanders, can base their strategies and tactics off of the information that we've collected."
"
You could see the fire burning, you could see the black smoke rising, and the sun was red earlier that day."
— Colby Peck
To conquer such an atrocity, many firefighters, field reporters, and various other workers are pulled from miles away. Woodside Fire Captain Jim Frey, firefighter Justin Werle, and other members of the Woodside Fire Department have helped at wildfires as far as Florida. Werle was also part of a strike team that countered the 2017 fires in Montecito, California.
"As far as the positions go there's everything from smokejumpers to water tender operations, fireline paramedics, field observers, the strike teams, [and] type 6 engines," Werle reflected. "There were people from 20 plus different states and they're just coming in all different types of apparatus, all different walks of life, and not all of them are firefighters… The cities they essentially create to [fight] these wildfires is insane."
Frey detailed the standard process Cal Fire takes when a fire gets too big for one organization to handle.
"We have a predetermined plan called the mutual aid system," Frey stated. "If there's a house fire we need five engines and a ladder truck, and we only have three here [in Woodside], so Redwood City and Menlo Park will come in… It's automatically determined that [Cal Fire will] help us out and we're going to help them out… The Office of Emergency Services [has] all the fire departments in the entire state listed. Then, they can call for whatever they want, and when they deplete that they go out of the state, and when they deplete that they pull in international sources."
On July 23, Woodside junior Colby Peck was on an annual camping trip with her family at a campsite near Redding, California when the Carr fire broke out. She had to take a four-hour trip from the isolated campsite to her grandparents' house in town.
"You could see the fire burning, you could see the black smoke rising, and the sun was red earlier that day," Peck recalls. "The next morning… you could see ash raining down in the pool, the bottom of the pool was black, and our car was covered in ash."
At the time of Peck's vacation, the Carr fire was less than 5% contained and spreading rapidly. On July 28, The Shasta County Sheriff Department ordered the evacuation of over 38,000 people from Redding, forcing Peck to cut her vacation short. As of now, the Carr fire has burned over 229,651 acres but is 94% contained.
Though the Carr fire is coming to a close, another wildfire began on August 19 just miles away from it in California's Shasta National Forest. With cooler weather coming in, we can only hope for higher containment percents as firefighters from all over the world band together to combat the California fires.