Trump's Journey to Asia Comes to an End
President Trump has returned to the United States after visiting leaders across Asia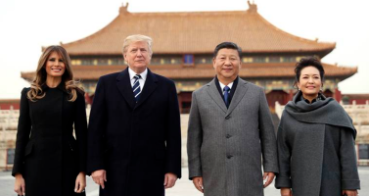 President Donald Trump's arduous 12-day trip across the Asian continent has come to a close, leaving in its wake meetings with a plethora of world leaders, photo opportunities, and tweets.
President Trump met with foreign dignitaries and leaders from Japan, South Korea, and China, and attended summit meetings in Vietnam and the Philippines in order to bolster foreign relations and discuss trade.
The president brushed off concerns that the trip was too arduous for him, telling CNN reporters, "I'll let you know if I don't stay fresh. If I don't stay fresh, you'll be the first to tell me."
Also on the trip were Trump's wife Melania and daughter Ivanka. While the First Lady has the unofficial duty of attending international trips and meet foreign dignitaries, daughter Ivanka's ever-growing role in Trump administration policymaking has drawn criticism throughout Trump's time in office.
While in Japan, Ivanka made a lengthy speech about women and the Japanese economy, praising Prime Minister Shinzo Abe for the improvement that has been made in recent years.
However, conversation regarding Ivanka Trump paled in comparison to the issues facing the president as he travelled the continent. Tensions around North Korea were especially high as Trump delivered aggressive sentiment, directly warning North Korea at the Seoul National Assembly, "Do not underestimate us."
Citizens at home and abroad anxiously await the United States' and North Korea's next moves, as the threat of heightened nuclear action follows the leaders.
A recent Trump tweet, sent out in the midst of his travels, alluded to this animosity, claiming Kim Jong-Un, the leader of North Korea, called him "old," whereas Trump would "NEVER call him short and fat."
This is not the first time Trump turned to Twitter to voice his opinions of the North Korean leader, as the two have exchanged harsh words on the social media site since the beginning of their countries' tensions.
United States National Security Advisor H.R. McMaster discussed the trip's main goals around North Korea, saying: "First, strengthening international resolve to denuclearize North Korea." He also mentioned "the promotion of a free and open Indo-Pacific region. Third, to advance American prosperity through fair and reciprocal trade and economic practices."
Trump has expressed confidence about the progress he made in Asia following these goals, both online and to news reporters.
"In the coming months and years I look forward to building an even STRONGER bond between the United States and China," Trump tweeted, following his visit with the Chinese president. He also posted several other tweets affirming that he enjoyed the trip and believed it was a success.
The Russian President Vladimir Putin also attended one of Trump's last stops on the trip, the Asia-Pacific Economic Conference in Vietnam. While there, he and President Trump reportedly talked at least three times, to the chagrin of those who disapprove of the two leaders' relationship.
Trump rebuked these critics on Twitter, saying, "When will all the haters and fools out there realize that having a good relationship with Russia is a good thing, not a bad thing."
With these criticisms in tow, Trump has returned home, bringing with him questions from fans and critics alike about the future of relations with countries across the board.
Richard Javad Heydarian, a Manila-based political expert, isn't hopeful about the impact of Trump's travels. He explains that Trump "essentially got nothing out of China. South Koreans are still extremely perturbed by Trump's unpredictable statements."