The Legacy of the Obama Family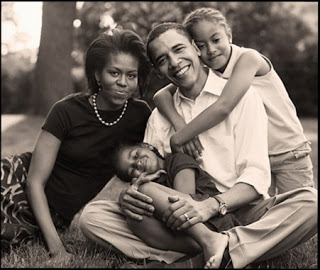 After two terms in the White House, the Obama family influenced the younger generation of students at Woodside High School to become more accepting of other races and ethnicities.
Barack Obama was elected in 2008, and took office in 2009. Malia Obama was only ten years old, and her younger sister Sasha Obama was only seven. The Obama girls are about the same age as most of the high school students at Woodside High School today, and in a sense many students feel as if they have grown up with the Obama family.
"When he was elected in 2008, I was just a little kid and did not really know how big of an accomplishment it was to have a black president," said Samantha McKaige, a freshman at Woodside High School.
Being the first black family in office, the Obama's can be seen as a sign of hope for  a more diverse community.
"Growing up with him as president made me so happy to see him accomplish great things and prove racists wrong," Samantha McKaige continued.
After killing Osama Bin Laden, legalizing gay marriage, pulling America out of the great recession, and much more, many people have considered Obama's presidency rather successful, with an approval rating of 57%.
However, Barack Obama was not the only person in this family who had done something monumental. While her husband was working on issues as president, first lady Michelle Obama worked against childhood obesity in a campaign called "Get Moving!" which started in 2010. By doing so, she has helped kids all around the country get more involved in physical activity.
Although they were a light of positivity to some, many people did not like the Obama family for many reasons, such as their political party.  The Obamas did not seem to mind that however. In fact, they fed off of negativity. "When they go low, we go high," said Michelle Obama in 2016's Democratic Convention.
"He's been brought down a lot but he's showed me that even through the toughest of times, you have to keep your head up," says Kevin DeAntoni, freshman at Woodside High School.