Netflix's "He's All That" Raises the Question: What Audience is Netflix Targeting?
Attracting younger audiences through stunt-casting alienates older audiences.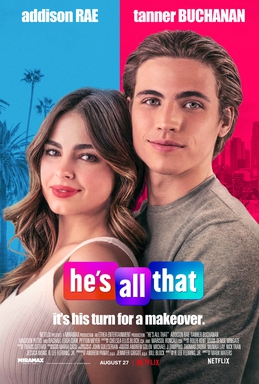 Mia Hua, Culture Editor
September 22, 2021
"He's All That," a movie remake of the hit 90s movie "She's All That," proves that Netflix can attract and profit off the huge audiences celebrities can bring in. 

Netflix publishes original content targeting specific audiences to ensure they have an incentive to continue subscribing and keeping Netflix's coiffeurs full. Netflix's content recently has become full of stunt-casting, and the reviews reflect it. "He's All That" has a 30% for critics consensus and a 24% for audience ratings on Rotten Tomatoes. Despite low ratings, Netflix has found an audience for these movies. 
Netflix cast Addison Rae as the main protagonist in "He's All That", despite her lack of acting experience. However, Addison Rae has over 83.3 million TikTok followers, who will follow her across all platforms. Rae can drum up excitement and bring publicity to the movie with her thriving TikTok account.  
"Casting Addison Rae [for "He's All That"] is a way to attract those younger viewers who look up to her," Andrew Ho, a social science teacher at Woodside High School, said. 
Ho watched "He's All That" with his sister and fiancé, but he didn't think Netflix was targeting his demographic of 25-30 years old. 
"I think it was targeting young students who have these visions of what high school could be like … The movie itself was extremely far-fetched. It was complete fantasy," Ho said. 
Because the majority of Addison Rae's followers are on the younger side, Netflix gains a new demographic of viewers under 18. Rae's platform alone could garner millions of views and keep Netflix subscribers paying each month.     
"Even if it's bad, a bunch of people still watched it because it has Addison Rae," Woodside senior Leo Raiche, an avid movie watcher, said. 
Netflix also took advantage of people who engage in "hate-watching," watching content that they know is bad, simply because they want to see how bad it is. Either way, Netflix still gets a view from them and extra publicity from people posting about how much they hated it. 
"I think it's a publicity stunt for people who hate her and people who watch it to … review it," Woodside senior Brynn Ayoob said. "The more people talk about how bad the show is, people are going to run to watch it to see how bad it is, therefore giving them money." 
Ultimately, "He's All That" represents Netflix's venture into content with the highest profit margins–stunt-casting famous celebrities for their fanbase. While Netflix may have attracted Addison Rae's audience, they may have lost many other fans disappointed in Netflix's money-grabbing tactics. 
"Don't get me wrong, I love watching sappy movies. … But this just seems too far, even for me," Ayoob said.