Meyers Leonard Says Anti-Semitic Slur Live
Miami Heat player Meyers Leonard has been caught saying an anti-Semitic slur while playing the video game "Call of Duty: Warzone" live on Twitch.
Meyers was live streaming "Warzone" when he said, "Don't f***ing snipe at me, you k*** b**ch." This provoked a lot of people, including the Miami Heat center. This caused him to be fined $50,000 by the League and suspended for an undetermined amount of time.
Jewish community college student Maggie Moran believes that the punishment was deserved.
"I agree with the punishment," Moran said. "I thought it was a very bad thing he said and should be punished accordingly. The punishment given, I believe, was fair and deserved." 
Meyers has stated on Instagram that he did not know what the word meant at the time or how much of an impact on people it would have.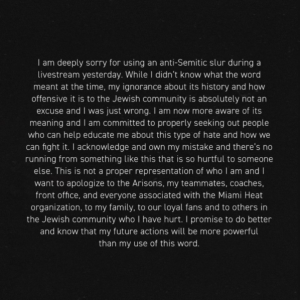 Janelle Maze believes that saying the word is very offensive, and it should never be used, especially by someone in the public eye.
"I am deeply offended by the word being used at all, especially by someone who is as famous as him," Janelle stated. "It makes me sick to my stomach that children that look up to him may think it's okay to use this word." 
Meyers has only attended two games this season and is expected to not play for the rest of it.
"This is incredibly problematic," Noa BenEzra, a Jewish high school student, said. "I have grown up being made fun of for my religion, and seeing that someone with so many young people looking up to him, they themselves may start using this word too."