Chloé Zhao Makes Golden Globes History Along With Her Category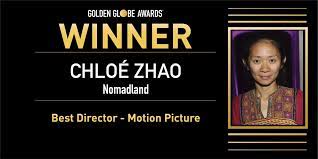 Chloé Zhao is the first woman of color director to win a Golden Globe for the director's category.
This year's Golden Globes on February 28, 2021, not only saw a historic win in the director's category but also with its nominations. Three female directors were nominated- Chloé Zhao for "Nomadland, "Emerald Fennell for "Promising Young Women," and Regina King for "One Night in Miami." Out of these three women nominated, two are women of color. In the past, only five female directors have been nominated in this category over a span of seven decades.
"I was pretty satisfied with [the nominations]," Sofia Pepe, a Woodside senior and film production student, explained. "I saw that … Chloé Zhao was nominated, and that was honestly amazing. I loved her. I thought there was a strong female presence in the nominations, which was new and exciting."
After seeing many of the films nominated by the Golden Globes, Woodside junior and film production student Ben Shepard was happy with the nominations for the director's category.
 "They were really, really good movies, so I thought they were all pretty deserving of the nominations," Shepard said.
This year's awards shows have been a bit different than past years because of all the movies that had their release dates pushed back due to Covid-19.
"[In] 2020, a lot of big movies were pushed back to 2021, and so a lot of the movies this year, no one's really heard of," Shepard said. "They're all tiny indie films, and the Oscars love tiny indie films." 
Even with such a historical win and nominations, the question remains, how will this affect the other award shows moving forward?
"The Golden Globes don't have a lot of credibility; they're more for entertainment purposes," Shepard said. "But what I want to see is the Oscars, or the Emmys give female directors a lot of nominations; because then it would definitely set a precedent for the future [by] encouraging female filmmakers and encouraging the Academy to take into account those movies because there's not a lot of very well-known female filmmakers."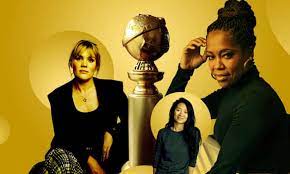 Pepe expects to see other award shows follow the Golden Globes path, and on March 15, the Oscars did, nominating two female directors for the director's category (Chloé Zhao for "Nomadland and "Emerald Fennell for "Promising Young Women").
"I feel like the award shows are always evolving and adapting to other award shows and building off of each other," Pepe described.
Shepard noticed more diversity not only in the Globes but in the movie industry as a whole this year.
"There was a lot of diversity in a lot of the really, really good movies that came out this year, especially with female directors," Shepherd explained. "There was another movie called "Judas and the Black Messiah,"… which was directed by … a Black man… It was a fantastic movie, so I expect a lot more diversity in the nominations this year."
Sofie Stam, a Woodside senior and film production student, was excited about the historical win and nominations for this year's Golden Globe directors category. 
"I think that's awesome because I feel like throughout history, there's been a lot of male directors and male … domination over the film industry," Stam said. "I think that's really cool that there were three [women] nominated."
Shepard has noticed that he hasn't seen as much exposure for female directors as male directors. 
"There's a bunch [of female directors] that are really really talented, but a lot of the attention goes to [male directors]," Shepard observed. "Right now in my head, I can name more male film directors than female. And so hopefully, [the nomination of female directors will] encourage a lot more [people] to become filmmakers and the Academy to pay more attention to their movies."
With these nominations, Pepe hopes to see this representation expanded in the industry as a whole.
"With newer directors being awarded… it really starts to incorporate the entire country, and it brings a lot of diversity into the movie industry in general," Pepe noted. "I think that with more representation comes a more diverse presentation."
Stam felt that more diversity in the nominations opens the door for more people aspiring in the film industry.
"It'll definitely allow for a more diverse selec[tion of] potential winners, and hopefully, that brings… a lot of different projects to the table … [and] a lot of different perspectives," Stam said. "I think it'll be good for people to see more diversity and more people like them on the television, … winning, things that they might be interested in and … inspire a lot of people. … hopefully, it'll influence other award ceremonies to try to include more diversity in their nominations."