Country Singer Morgan Wallen Caught Using the N-word
Morgan Wallen came home drunk and was recorded saying the n-word before going into his home.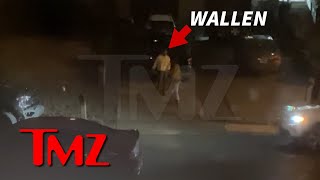 TMZ caught famous country singer Morgan Wallen saying the n-word outside of his home while drunk.
Wallen reportedly walked to the front door of his home on January 31 after a night of extensive drinking, then yelled, "Hey, take care of this p**sy a** motherf***er," followed by, "Hey, hey, take care of this p**sy a** n*****." The video was caught on his neighbor's Ring doorbell camera.
"I really liked his music, but I don't know if I will be able to hear his music the same anymore," former Morgan Wallen fan Kwan Jones said.
Wallen released a video on Instagram saying he is sorry and disappointed, not because he got caught, but for his actions. He stated that he had let many people down, including family and friends, and he wishes to improve on his actions and take full responsibility for them.
Passionate country fan Olivia Nelson disagrees with how much hate Wallen is receiving. 
"It wasn't right for him to say it, but it shouldn't be a career-ending mistake," Nelson said.  "Everyone makes mistakes, especially when under the influence of alcohol."
Wallen has also stated in his apology that he has taken every chance he can to talk to, as he said, "some amazing Black organizations."
"I will continue to not listen to any of his music or support him in any way," Black rights activist Michael Leon stated. "He needs to know how bad he messed up and shouldn't be brushed off as nothing."