Three binge-worthy Netflix shows
To enjoy these amazing titles, a Netflix subscription is required.
Now that everyone is stuck at home, it's the perfect time to relax with a good show or have fun playing popular game titles to ease the neverending boredom during this pandemic. It's more than likely that you'll find yourself emotionally connected to a few characters or relating to the great plots. Compiled below, three of the most popular shows amongst our fellow Woodside students.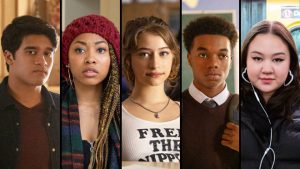 Grand Army (2020) – DISCLAIMER: Grand Army is rated TV-MA because it has scenes that may trigger/upset certain viewers. A 2020 teen drama based in Brooklyn, New York, Grand Army outdoes typical shows by having characters face physically being teenagers but having adult responsibilities, fitting in, and finding themselves in this vast world. Grand Army gains more than a good laugh like other shows because many who watch the show are impacted emotionally after viewing. However, the show faces heavy criticism and backlash on social media outlets for depicting rape culture, racial inequality, and peer pressure. While these teens battle with their hardships, they can always fall back on their family members or friends for unconditional love and support.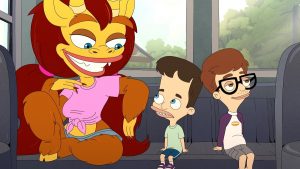 Big Mouth (2017-Current) – DISCLAIMER: Big Mouth in the U.S. is also rated TV-MA due to the use of nudity, profanity, and moments of sexual instances. The popular animated comedy is currently in its fourth season, just released on December 4. Big Mouth's audience comprises teens and young adults due to the show's unique plot development. The show is known for its puberty jokes, trauma, and the relatable hardships that each character faces while growing up. Tierney Rhiannon, a member of a Jane The Virgin discussion group on Facebook, shared their thoughts and feelings towards the show and how they've related to more than half of the characters.
"I've watched it since it first came out. I love that I am able to get emotionally attached to it. There are some things in the show I actually related to while growing up that right there makes the show so much better and funnier," Rhiannon said. "I want to see what their perspective is on everything based on becoming an adult. Keep it up. This show is amazing. I definitely give this show a five-star rating."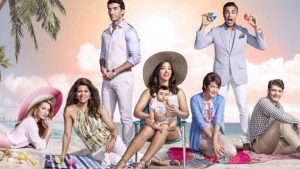 Jane The Virgin (2014-2019) – The five-season romance drama immediately takes off when Jane Villanueva, who happens to be strictly Catholic, finds out she's pregnant after accidentally being artificially inseminated. Jane The Virgin has been nominated 70 times, winning 21 awards, including an Imagen Foundation award in 2015 for Best Primetime Television Program – Comedy. Most of the cast is of Latin descent, making this show more comfortable for viewers. The Latin-American telenovela keeps viewers reeled in while the show covers drama, romance, comedy, love triangles, and satire. The insemination completely threw Jane's life plans off track, and she has to make adjustments to her new life to accommodate the baby she's now expecting. While facing her own struggles, Jane is always someone that can be heavily relied on throughout the show to provide emotional support and advice.