Christopher Badger Gets Ready to Release His Next Album
The album is set to release June 6, 2020.
Woodside senior Christopher Badger has always had a passion for music. Over the course of several years, Badger has brought his own musical identity to multiple genres and aliases. Now, with the release of his next album quickly approaching, he's getting ready to redefine himself once more.
Badger started his musical career in elementary school when he formed a rock band with a few of his fellow students. At the time, he was taking guitar lessons recommended to him by his father, but he soon quit in pursuit of another genre: EDM.
"My dad showed me a video of Santana performing in the 3rd grade, and I said, 'I want to do that,'" Badger told The Paw Print. "Then, I saw Martin Garrix perform EDM music, and I said, 'Alright, I want to do that too.'"
While his EDM alias Krakn was relatively successful (his remix of Cheat Codes' "Sober" has over a million plays), Badger felt that the expectations of the genre were constraining him creatively, so he decided to change course again.
His next project, under the alias "Christopher Normann," is the one he's most focused on now (although he's also part of the five-person jazz group called the Indygo Rhythm Section). His current musical style combines aspects of all these projects; many of his songs are guitar-driven, use jazzy chords, and contain the occasional electronic elements.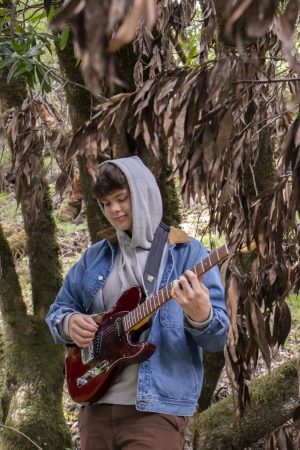 Despite being influenced by the older jazz and rock musicians he often listens to, Badger cites more contemporary artists as his main inspirations.
"I listened to Rex Orange County," said Badger. "That honesty and lyrics really spoke to me, and I wanted to do the same with Christopher Normann."
The first album to result from this new creative process, "PENSE," was released in July of 2019.
"I feel like ['PENSE'] was a demo," Badger said. "That album captured an in-the-moment feeling; I spent a few days on a song, finished it up, and released it because I really wanted to get it out there."
As for his upcoming second album, Badger stated that it's about 80 percent done.
"The tracklist is in place," said Badger. "I know the storyline I'm going with."
California's shelter-in-place order has slowed down his writing process, but Badger is no less determined to put the finishing touches on his musical project. Between gaming sessions of "Cuphead" and "Rainbow Six Siege," he said he's adding small instrumental touches, rerecording takes, and mastering finalized tracks.
"I'm spending a lot of time on it, so it's really important to me," Badger revealed. "I'm looking back on the songs that I've made in the last nine months or so, and I'm just kind of weaving them if that makes any sense. I'm going back to them and sewing them up."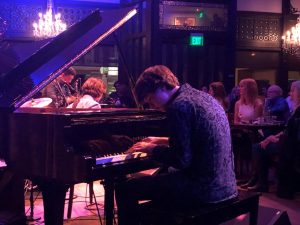 The work has undoubtedly paid off. Even in their unfinished states, the songs on his upcoming album are phenomenal. Each track is bursting with warm, vibrant energy, filled to the brim with juicy guitar licks and sweet vocal performances. The album's production complements this well, borrowing from a wide variety of genres and styles. Badger seems to have drawn heavily from his varied musical past, and in doing so he has created something special.
For this article, The Paw Print received an early copy of Badger's newest album. The album is set to release June 6, 2020. Badger would like to thank Dominic Constantz for helping with brainstorming, recording, making the tracklist, and much more.