From Prison Inmates to High School Students: Woodside Teacher Andrew Ho Has Taught Both
Learn about first-year Woodside teacher Andrew Ho who has taught students in schools and prisons.
Typically when we think of places of learning, we think about the colorful carpets of kindergarten classrooms, the inspirational posters of traditional high school classrooms, and the enormous seating capacities of university lecture halls.
But Woodside High School history teacher, Andrew Ho, has challenged the idea of the conventional classroom through his work for the Prison University Project, a nonprofit organization that has about 3,000 volunteers and offers inmates the opportunity to earn an associate of arts degree. The organization supports the College Program at the San Quentin State Prison where Ho worked as a tutor for inmates.
"I would enter the jail on a weekly basis during study hall hours to help and support inmates who are taking college courses," Ho recalled. "I would support student work, engage in discussions, and help organize their schoolwork."
Ho chose to volunteer for the program because of the impact he believes education can have on the individual, especially those who are incarcerated.
"I decided to participate in the Prison University Project because I truly believe in the transformative power of education," Ho said. "I wanted to help support marginalized people, who are often the ones who are 'forgotten,' in pursuit of them hoping to improve their lives."
Ho worked for the Prison University Project for about a year in 2017 before moving on to receive his masters at Stanford University. He became inspired to become a teacher after his own experiences in education.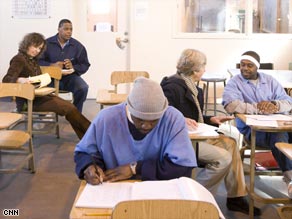 "I chose to become a teacher because I realized the power a single teacher can have on students," Ho recalled. "My social science teacher, Mr. Ortega at San Mateo High School, made learning fun and relevant, and I credit him to changing my outlook on school and falling in love with it."
Ho is now following in Ortega's path as he currently teaches World Studies and US History in his first year at Woodside High School and tries to change his own students' outlooks on learning and life.
"For me, it's about perspective. I love to try to engage students by using their own perspective while considering the perspectives of others," Ho said. "I just come into the classroom being my authentic self and hope the students appreciate that."
In addition to teaching history, Ho is the advisor of the Four Corners club at Woodside, in which students have engaging discussions about grading policies, job and career opportunities, high school and college life, scholarships, and the transformative impact of education.
"We take a step back from the practicality of education, [such as] getting a degree, good job, etc., and focus on a more philosophical aspect [like] becoming a well-rounded person, gaining humility, [and] work ethic," Ho told The Paw Print. "Essentially, I want students to realize that education and the pursuit of knowledge can help lay the foundations for a happy and fulfilling life."
Though Ho no longer works for the Prison University Project, he is still passionate about helping incarcerated people and is especially concerned about them during the current COVID-19 crisis. 
"Incarcerated people are some of the most vulnerable people during this crisis," Ho commentated. "They are confined to small spaces that are often overcrowded. They don't have access to health and medical care in the way that we do, and people tend to hold the idea that 'prisoners had their chance' and that they are not a priority. But they're people."
According to the California Department of Corrections and Rehabilitation, 181 patients in California prison institutions have tested positive for COVID-19 as of late April. 
Ho hopes that others will broaden their perspectives on those in the prison system, as he continues to teach his own students about the importance of education in everyone's lives, from high school students to prison inmates.
"Think about this: why is a man serving a life sentence, who's release from prison is highly unlikely, entering a college program to earn a degree?" Ho said.  "It's more than just a piece of paper. It's a lifestyle, a method to change one's thinking, an act to change perspective."