Is Shake Shack Worth the Hype?
The Shake Shack in San Francisco opened about a month ago – let's see what people have to say about it.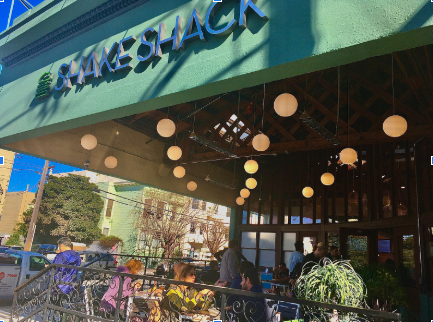 Shake Shack opened on Monday, February 3, in San Francisco, and The Paw Print went out to see if it lived up to its national reputation. 
The first Shake Shack to open in the Bay Area was at the Palo Alto shopping center, soon followed by locations in Larkspur and San Mateo. The fourth Shake Shack that has just opened in San Francisco has been very popular, and one reason for the restaurant's popularity is because of its top notch burgers and convenience for residents.
Despite the long lines, many San Francisco residents enjoyed their meal at the new Shake Shack.
"I've been to the [Shake Shack] in New York, Las Vegas, and LA," Shake Shack customer Michaela Davis said. "It was worth waiting for even though it took a long time."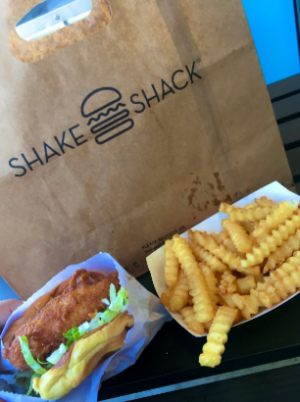 One reason people enjoy Shake Shack is because of their vegetarian options. They offer a "'Shroom Burger," which consists of a portobello mushroom stuffed with cheese, served with lettuce, tomato, and a bun.
"[Shake Shack] is the only restaurant that makes mushroom burgers; so that's what I like about it," Davis said. "I wish there were more tables because earlier it was hard to find one." 
According to Business Insider and The New York Times, the reason for Shake Shack's popularity is because of their favorable food. Many people enjoy their food quality and the modern look of the fast food restaurant.
"I like Shake Shack because of their milkshakes and fries," Woodside sophomore Alyssa Mitchel said. "I think it's better than other fast food restaurants because they give you more variety and options than other places like it."
Danny Meyer is the founder of Shake Shack, which first started as a hot dog cart inside Madison Square park in 2001. After this small beginning, his business has steadily grown to 162 locations in 12 countries.
"I don't mind waiting, and I'm used to going to other places like this that you have to wait for," Shake Shack customer Barbara Rodriguez said. "I would definitely come back."
Although many people are fans of Shake Shack, there are still people who don't find it any different than other fast food places and don't agree with the prices.
"The reason I like Shake Shack is because of their fries and ice cream," said Woodside junior Zahra Roberts. "I feel like it's overhyped because it's in the Bay Area. It's pretty much the same as In-N-Out, which is also good, but Shake Shack is just better."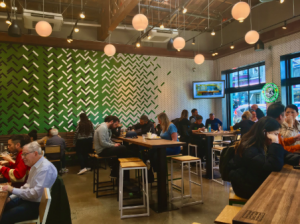 Shake Shack and In-N-Out offer many of the same choices, but there is a significant difference in prices. A burger at Shake Shack is $5.29, and a burger at In-and-Out is $2.40.
"I feel like for the portion sizes, it's worth the money, but some things on [Shake Shack's] menu are overpriced," Roberts said. "I think it does live up to its reputation."
Despite lines and prices, most say good things about Shake Shack, would come back, and/or recommend it to friends. 
"I loved the atmosphere, that it's very casual, and I loved the outside space. So I loved everything about it," Rodriguez said. "I would recommend it to someone else."