California State Senate Candidates Discuss Education, School Safety During Redwood City Forum
In an election dominated by the U.S. presidential race, District 13 contenders attempted to make their voices heard.
When five candidates for California State Senate, District 13, one columnist, and a fourth-grader walk into a library, what do they discuss? Education, it turns out!
Around 100 people gathered into the community room at the Redwood City Public Library on February 13 to talk about the problems facing local schools and how to fix them throughout the state. The forum featured Republican Alex Glew and Democrats Josh Becker, Shelly Masur, Michael Brownrigg, and Sally Lieber, all of whom hope to serve as state senator for California's thirteenth district. Voting will take place during California's primary elections on March 3.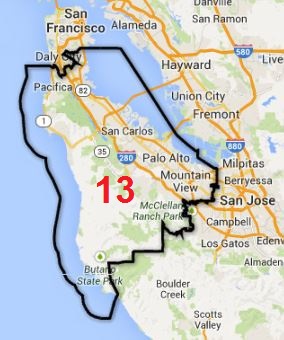 "It was super energizing and invigorating to focus like that on education," Brownrigg, a former diplomat and current Burlingame city councilman, told The Paw Print.
The forum, which can be seen on a previous live stream from the Redwood City Education Foundation Facebook page, was moderated by San Mateo Daily Journal columnist Mark Simon. Out of the seven candidates, two—Democrat Annie Oliva and Libertarian John Webster—were not present. Oliva's staffers responded via email that she had "a different commitment" to attend while Webster said he never got the notice from organizers that the forum was happening. 
"I don't think anybody even invited me [to the forum]… I would've shown up had I known about it," Webster, who ran for the same State Senate position multiple times between 1992 and 2016, commented.
The debate itself centered around topics related to education, touching on for-profit charter schools, bullying, and the policies that candidates would enforce if elected. One prominent topic was 1978's Proposition 13.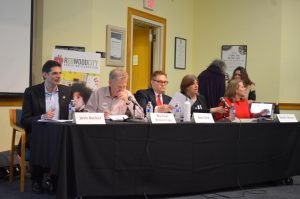 "Prop 13 was passed 40 years ago in order to make sure… senior citizens wouldn't get driven out of their homes by rising taxes," Brownrigg stated in an interview after the forum. "When Prop 13 was first passed, two-thirds of all property tax dollars paid to the state, or counties, or cities or school districts… came from business, and one-third [came] from homeowners… Forty years later, two-thirds of the property taxes are paid by homeowners and only one-third by [businesses]. I think that tells you all you need to know about an unfair allocation of paying for government and school services."
Some of the debate's most fiery moments came during a discussion about the pay gap between teachers and other professions.
"Teachers are paid so lowly because it started out as an exclusively female profession," former California assemblywoman and Mountain View mayor, Sally Lieber, told the crowd. "We need to pay teachers like the professionals they are."
Aside from debating policies, though, a major part of the forum involved each candidate directly addressing potential voters about why they would make the best district representative.
"When you think about who's been doing this kind of [school-related] advocacy for the longest and who has the connections up in Sacramento, it's me," Redwood City vice mayor and former Redwood City School Board president, Shelly Masur, argued.
The debate also included some humorous moments, such as when Simon apologized for calling engineer and business owner Dr. Alex Glew by only his first name for the first few questions (citing his own son Alex) and when Lieber called for the creation of a team name and candidate-specific jerseys.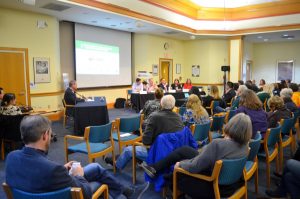 "This [was] the second or third debate that I've moderated with [the candidates]," Simon observed. "As the campaign goes on, they get better at [debating]. They get better at succinct answers. They get better at more definite answers."
Josh Becker, a non-profit director, and Menlo Park resident, praised Simon for going above-and-beyond to make the forum a worthwhile conversation. 
"I thought Mark pushed us on some questions, which was good," Becker acknowledged afterward. "Not all moderators do that."
But even though Simon asked most of the questions, fourth grader Mia Bey of Roy Cloud Elementary put forward one of the toughest of the night. 
"How will you ensure a safe school environment for all students, including physical safety from gun violence and preventing bullying?" Bey asked the panel. 
"Thank you, Mia," Becker responded. "It takes a lot of courage to come up here and ask a question, and you asked a really important one… It's really sad that we have to answer that one."
The other candidates shared similar sentiments as they responded with their own experiences and facts regarding school violence and safety. Their focus made Bey feel appreciated despite her age.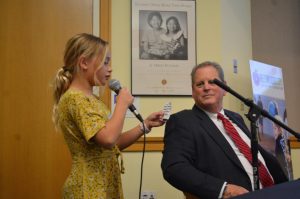 "It felt like I was a special person and that they all knew me, even when they didn't," Bey remarked. 
Ultimately, while the candidates discussed a variety of problems, policies, and potential solutions, Simon was unsure whether there was a clear winner.
"I think they all did fine, but… I can't tell you whether I thought one of them won or not," Simon confessed. "If you ask each of them, they would probably say that they had accomplished what they set out to do. A smart candidate comes to these [debates] with three or four points they want to make on who they are and why they are running, and I suspect they all managed to do that."
But even the candidates themselves didn't know whether or not they had triumphed.
"I always say it's like a boxing match," Glew said. "You get out of the ring and say 'did I win?'… I think I did [give] good answers, and it allows people to understand how I think and what I think. To that extent, I think it was a win."
From the point of view of a fourth grader, all the candidates were successful.
"I think they all did well, and even if they don't win, then at least they should know that they can all be state senators in their own way," Bey declared.