And the Oscar Goes to… No Female Directors
Nearly every year, people criticize the lack of diversity among nominees at the Oscars.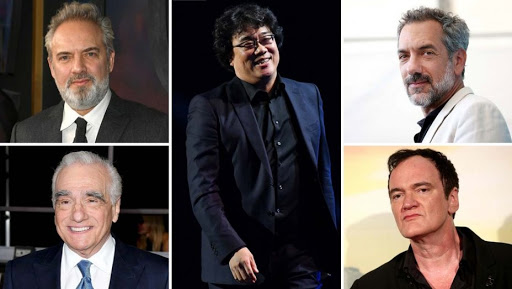 The 2020 Academy Awards made history this year with South Korean film "Parasite" being the first foreign-language film to win best picture— however, no women were nominated for best director.
This year's Academy Awards were criticized for their lack of diversity among nominees, and despite "Little Women" being nominated for best picture, many were upset by the movie's director Greta Gerwig not making the list for best director.
"I think that the issue was not that Greta Gerwig was snubbed; it's more likely that there is a general lack of female directors in Hollywood," said Greg Tetelbaum, a Woodside sophomore and video production student. "[It's] possibly because of sexism in Hollywood, but I don't think that it was because there [were] a bunch of female directors who weren't given the opportunity."
In the past 92 years of Oscars, only one woman has won for best director (Kathryn Bigelow for "The Hurt Locker"), and only five women have ever been nominated.
"I think it is a problem because there were women that directed impressive movies; for example, Gerwig who directed 'Little Women,'" Milena Raeber, a Woodside senior and video production student, expressed. "I think that this also speaks to a bigger problem of not having enough women behind the scenes."
Tony Mueller, a Woodside English teacher, saw several films directed by women that he enjoyed.
"I saw a lot of great movies this year that were directed by women,"  Mueller expressed. "Two that really stood out were '[The] Farewell' [and] 'Atlantics.'"
On its opening weekend, "Little Women" made an estimated $6.3 million internationally.
"It's not like they're doing these women a favor by giving them these platforms,"  Mueller said. "These are money-making films people want to see."
While a foreign film won best director and best picture, many still note problems with the Oscars' lack of diversity.
"['Parasite' is] the first foreign film to be nominated in that category or to win the category, which is really something special," Hazel Griffin, a Woodside senior and drama student, said. "Still, even with that, I think there is a lack of diversity just in the category in general. There always has been."
"
I think there is a lack of diversity just in the category in general. There always has been."
— Hazel Griffin
Throughout the Oscars ceremony, the introducers frequently made jokes that highlighted a lack of diversity among nominees.
"I think it is important to recognize that there is no diversity and to publicly say that during the ceremony is important too," Griffin said. "To make people aware and to hopefully change minds for the next ceremony and the ones to follow."
A common excuse used to defend the lack of diversity is historical accuracy.
"There's this sort of excuse that these are historical movies,"  Mueller noted. "They're at [a] specific time and place but, spoiler alert, there were women and people of color in history, and they should be represented in films."
Griffin believes that getting a new pool of voters will help diversify the nominees.
"I don't exactly know who is part of the Academy, but I happen to know it's a lot of older people though," said Griffin. "Getting to see more young people's opinions … is important in the film industry since there are many young people involved in it." 
This year's top films, including "The Irishman," "Ford v Ferrari," "Once Upon a Time… in Hollywood," and "1917," mostly featured male actors.
"There seems to be, especially this year, a real focus on the male experience," Mueller noticed. "Almost all of the Oscar-nominated films this year are not only directed by men but about men, about white men, and some of them don't have any women in any substantial role… There are some women, but they seem just like props for the two white men that are at the center of the film."
Despite progress with new popularity towards foreign films thanks to "Parasite," Mueller still wants to see a change in perspective in the movie industry.
"Frankly, I don't want to see 'Ford v Ferrari' or even '1917,'" Mueller said. "We've seen those movies a million times before. Let's have new voices from a variety of people and stop making the same movie over and over again for the same audience."