Forever 21 Bankrupt
Forever 21 restructures after a decline in sales.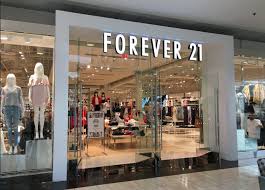 Forever 21 plans to close up to 350 stores globally, 178 of which are in the United States, following its bankruptcy announcement on September 29.
The popular retailer, known for cheap and trendy clothing, is restructuring in response to a decline in revenue, going from $4.4 billion in 2016 to $3.3 billion last year. Some Woodside students believe that this decline shows the growing popularity of higher-quality or sustainable stores.
"I am not surprised about Forever 21 going bankrupt," Stephanie Gerson, a Woodside senior, stated. "I know there's been an increase in ethical bands, and thrift shopping has become a lot more popular, so it doesn't really surprise me."
Gerson sells old clothes online and promotes sustainability. She believes that the gaining traction of the sustainability movement has helped customers see the problems with fast fashion.
"I do [think it's symbolizing a change in the industry], because a few years ago, Forever 21 was a huge corporation," Gerson said. "Now people are realizing the environmental impacts of fast fashion and the poor working conditions that employees have to go through."
However, some students disagree, claiming that the rise of online shopping, not increased awareness about sustainability, led to Forever 21's financial issues.
"I think Forever 21 closing  signals a change in where people are deciding to buy their clothes as opposed to an end to fast fashion," Adrienne Evans, a senior at Woodside, argued. "People these days seem to still be okay sacrificing quality for lower prices, but [they] are more likely to do so on the internet where they can do it from the convenience of their phones."
Meanwhile, others believe Forever 21's bankruptcy is simply due to changing trends.
"Everyone wants designer brands and will now set aside these brands, like Forever 21, so they think they look cool," Via Carrillo, a senior, claimed.
The store's low prices and on-trend clothing made Forever 21 a favorite for some.
"I like the fact that if you look hard enough you find some things that are like from Pacsun or Brandy for a cheaper price," Carrillo added.
Other students agree that Forever 21 is affordable but acknowledge that there are other places to find clothing for the same low price.
"One benefit is that it's cheaper, but shopping at a thrift store can be very cost-effective as well," Gerson asserted. 
Though Forever 21's clothing is low-cost, some view the company's fast fashion style as harmful.
"
People are realizing the environmental impacts of fast fashion."
— Stephanie Gerson
"[Fast fashion] tends to exploit workers in poor towns or developing nations," Evans stated. "Children I know are also among the exploited in some cases. Fast fashion also usually results in greater carbon emissions when it comes to transporting the actual items."
Other students emphasize the environmental problems fast fashion cause.
"The problem with fast fashion is that the clothing itself is not made well, [and] they're not high quality," Gerson explained. "It forces the consumer to keep buying and buying and throwing away clothes that end up in the landfill that could eventually end up polluting our land as well, so it's just a vicious cycle."
Some students were taken aback when they learned of the popular company's bankruptcy and reflected on their history with the company.
"I was more shocked than surprised when I heard Forever 21 was closing," Evans reflected. "The brand has been around for as long as I've been alive, and I have plenty of memories shopping there with family or friends. I was surprised earlier this year when I heard about their financial state simply due to the fact that they had so much product being sold at so many locations worldwide."