James Holzhauer's Historic "Jeopardy!" Run Continues Into Fourth Week
Fans buzz about James Holzhauer's winning streak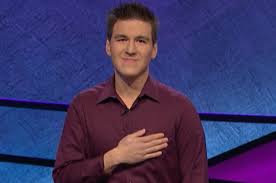 Current Jeopardy! champ James Holzhauer is on a roll after winning 29 games in four weeks.
The 35 year old professional sports gambler from Las Vegas has been pulling up big numbers ever since his debut on an episode aired on April 4th, earning lots of support from fans across the world.
"I only started watching when my dad told me about [Holzhauer]," Woodside sophomore and Jeopardy! fan, Caroline Daniher, confessed. "it's interesting when you have someone like that who can just actively answer all the questions right then and there."
In fact, according to Deadline News, Jeopardy! currently has around 12 million total viewers, and was up 12% in households and 27% in total viewers the week before Jeopardy! postponed regular games on May 6. (May 6 featured the show's annual two-week teacher tournament, which hosted teachers from all over the country trying to win a $100,000 grand prize.)
At the time of writing, Holzhauer has amassed $1,691,008 during his 22 day win streak, winning an average of $76,864 per game. He trails only Ken Jennings' wins and cash, who remains in the top spot for both lists with 74 victories and $2,520,700 in prize money. When asked about it in a New York Times Q&A, Holzhauer likened his strategy to that of a poker game.
"You can see as soon as I get control of the board in the first game, I'm going for the $1,000 clues whenever I have the opportunity," Holzhauer told the Times. "There are big advantages to having a lot of chips early on in a poker tournament. You can make plays that other people can't."
This strategy is one of the first points to the "Forrest Bounce," a strategy of winning games that involves going for the bottom (larger value) prizes first, and hunting for and betting big on Daily Doubles to increase value and leave other opponents far behind.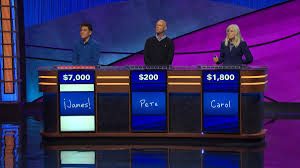 It was first used and perfected by Chuck Forrest in 1985 who won all five games in his run, but succumbed to rules at the time stating a Jeopardy contestant could only win that amount of games before quitting. This strategy is heavily unfavored by host Alex Trebek, who argues that it interrupts the "natural rhythm of the game." However, many say it makes for a more exciting game.  
"His ability to know like literally any topic and know the answer straight away is what makes his style of play is what makes it all the more awesome," Daniher commented. "It's just, in a way, kind [of] inspirational."
These record winnings come as Jeopardy! celebrates its 35th season with Trebek as host, who came out with stage 4 pancreatic cancer one month before James's debut. Pancreatic cancer has around a 9% survival rate among people with stage four of the disease like Trebek. Despite these low odds, Trebek vows to keep fighting.
"I plan to beat the low survival rate statistics for this disease," Trebek said in a statement released on March 6. "Truth told, I have to! Because under the terms of my contract, I have to host Jeopardy! for three more years. So help me. Keep the faith and we'll win. We'll get it done. Thank you."